Keep these 2 tips in mind for a successful public access defibrillation program
Cardiac arrest is the third leading cause of death, but it can be stopped with more AED interventions
---
By Yoona Ha, EMS1 BrandFocus Staff
Sudden cardiac arrest is the third leading cause of death in the U.S. On average, less than 8 percent of people who experience an out-of-hospital cardiac arrest survive, but using an AED can significantly increase their chances of survival. These devices are known to increase an individual's odds of survival by shocking the heart by shocking the heart and allowing it to reset itself back into a normal rhythm – plus, they're designed for ease of use by non-medical professionals.
One strategic response to save more lives has been the launch of Public Access Defibrillation (PAD) programs. The American Heart Association notes that at least 20,000 lives could have been saved by the prompt use of AEDs, and with the help of trained responders, as many as 50,000 deaths annually could be avoided altogether.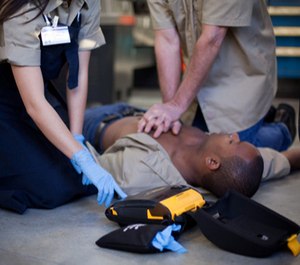 Licensed paramedic Samantha Hilker knows all too well how a PAD program can make a difference in moments you least expect. One example she recalls involved a man who collapsed from a cardiac arrest at his brother's funeral.
"There was an AED present at the church that a bystander grabbed and used and it saved the man's life," said Hilker, who owns Hilker Project & Strategy Management, a firm that advises EMS agencies on organizational development and strategic planning. "The sooner we can get to the patient's side, the more available the AEDs, the more we have people familiar and unafraid to use them, I think we'll see more of a positive impact on out-of-hospital cardiac arrest survival rates."
Hilker, who worked at Gold Cross EMS, which launched a foundation that helps organizations pay for AEDs, shared two things that agencies should keep in mind to efficiently manage their PAD program:
Community buy-in is key to getting more funding
Finding sources for funding should always be your top priority when it comes to both starting and maintaining your AED program. AEDs cost anywhere from $1,000 to $2,400 each, including the pads and batteries.
Although the cost of launching one might seem daunting for some, there are many ways to get financial aid for a PAD program.
Community foundations and hospital foundations are a good start. The internet is also a great place to search for grants offered by AED makers like HeartSine  and Physio-Control.
More states are passing legislation that requires AEDs in public places, and that's indicative of the public's growing awareness of improving access to AEDs.
"Cardiac arrest is something a lot of people are passionate about because it's something they've experienced and were saved by a bystander, or they have seen a loved one go through it," said Hilker. "They're very passionate about creating a safer community for their peers, community members and their children."
Another option is fundraising through partnerships with local businesses or events. And for organizations that are looking for help with maintenance costs rather than startup costs for a PAD program, Hilker advises that they share the stories of how the AED is used, especially during fundraising events.
Choose your device wisely
Another important but often overlooked component of a successful PAD program is having reliable AED machines that can be easily used by the average person. Eileen Swierczynski, marketing manager at AEDSuperstore, said the first thing to look for in an AED machine is whether it's simple to use for individuals who have not received any medical training.
"You want a device that's not going to intimidate someone who might be in a situation already under stress," said Swierczynski.
With clear step-by-step instructions, the Physio Control Lifepak CR Plus is easy-to-use for bystanders who might need step-by-step guidance throughout the defibrillation process. As soon as the Lifepak's lid is opened, the user is verbally guided through all of the steps he or she needs to take to use the device.
Unlike some other AED devices, the Physio Control Lifepak CR Plus doesn't require separate batteries and pads, since it comes with a self-charging battery pack. The Physio-Control CR Plus also comes with an eight-year warranty and comes in semi-automatic and fully automatic models.
Cardiac arrest treatment advocates, EMS agencies and community members all share a common goal in that they want more cardiac arrests responded to in less time. Thanks to modern technology, it's gotten easier and easier for anyone to help others survive cardiac arrest.
More schools are requiring students to graduate with CPR training, which Swierczynski said she hopes will help graduates introduce AEDs to more of their workplaces and other public spaces.
 "I think that by educating people, we can help them understand how important AEDs are, how simple they are to use and what a huge difference they make," said Swierczynski. "And we can help more PAD programs thrive."

Request information from AED Superstore
Thank You!