How an AED can make a difference in running your PAD program
Simplicity and durability are traits you should look for in your AED
---
By Tim Nowak, EMS1 BrandFocus Staff
It's one thing to put an AED in front of a trained emergency medical responder, EMT, or paramedic. It's an entirely different thing to put one in the hands of an untrained bystander who happens to see someone in sudden cardiac arrest.
This is the reality of public access defibrillation (PAD) programs in our communities.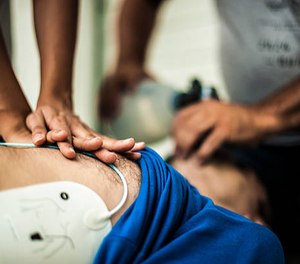 Because most people haven't had formal AED training, a lot of importance is placed on a key component of any public access defibrillator: it needs to be simple to use.
Heartsine AED Fits the Bill for PAD Program
This is what the town of Minocqua, Wisconsin understood when they began developing their PAD program. They wanted to use a simple, easy-to-use AED and ultimately settled on the Heartsine samaritan PAD 360P device.
This automatic external defibrillator just needs to be turned on, and the rest is easy. You just follow the instructions.
Unlike many other AEDs, this one doesn't require plugging in the pads because they're already connected and incorporated right into the battery pack. The device's "3-2-1" countdown notifies the rescuer of when a shock will be delivered, and its integrated metronome helps compressors keep in-tune with proper compression rates.
Another benefit the device offers is its high durability to withstand steep fluctuations in the weather. Today, the Heartsine AEDs are at the ski chalets in the winter, at the beachfronts in the summer and inside community buildings all throughout the year.
This compact, lightweight, and rugged device has been a great addition to serve both the visitors and residents of Minocqua. Just look for the "AED inside" sticker on its stationary cabinet and you'll find an easy-to-use lifesaver.
Reliability and Features in a Portable, Durable AED
Considering that most public access defibrillators sit stationary throughout their "career," it's important to make sure that when they're called to act, they'll perform just as well on day 1 as they will after one year (or even longer). The four-year battery life of the Heartsine samaritan PAD units plays into its reliability. Its all-in-one pad-pack couples the battery with its defibrillation pads for an easier switch-out and recharge process after each use.
Downloading its data is also quite easy. Standard connections can be utilized to pull reports related to rhythm analysis, defibrillation delivery, and time sequences. This can aid the physician staff with seeing the patient's dysrhythmia throughout the course of their resuscitation.
Also integrated into its features is a lightweight, durable design that is very resistant to dust, particles and water. Its carrying case adds to both its durability and visibility making it an appropriate fit for PAD programs.
Value and Simplicity
From a cost standpoint, the Heartsine samaritan line of AEDs offers some of the least expensive options on the market. Utilizing the same product line of AEDs within a community allows for increased equipment familiarization, decreased reserve supply requirements, and integration between device users such as civilians, police officers and other first responders.
Even between its different models, its all-in-one battery & pad pack can be universally used between the samaritan PAD 350, 360, 450 models. This allows for an easy exchange process if the community PADs utilize the 350 model, while the fire department first responders utilize the more "hands on" 450 model.
At the end of the day, durability, affordability, longevity, and most importantly, simplicity, drives the success of any PAD program. Finding the right AED to meet the needs of your program is all part of the equation.
About the author: Tim Nowak, AAS, BS, NRP, CCEMT-P, SPO, MPO, is the founder and CEO of Emergency Medical Solutions, LLC, an independent EMS training and consulting company that he developed in 2010. He's been involved in EMS and emergency services since 2002, and has worked as an EMT, paramedic and critical care paramedic in a variety of urban, suburban, rural and hospital settings. He's also been involved as an EMS educator, consultant, item writer, clinical preceptor, board member, reference product developer, firefighter and HazMat technician throughout his career.

Request information from AED Superstore
Thank You!