NHTSA Office of EMS to hold webinar on prehospital crisis standards of care
The webinar will discuss implications for local EMS leaders and how one state is preparing for a surge in demand for EMS services due to COVID-19
---
By Laura French
WASHINGTON — The National Highway Traffic Safety Administration's Office of EMS will be hosting a webinar on Thursday focused on prehospital crisis standards of care amidst the COVID-19 national health emergency.
The webinar will be held at 3 p.m. EDT on March 26 and discuss why crisis standards of care are critical in a prehospital setting, implications for local EMS leaders implementing these standards, and how one state is preparing for a surge in demand for EMS services due to the pandemic.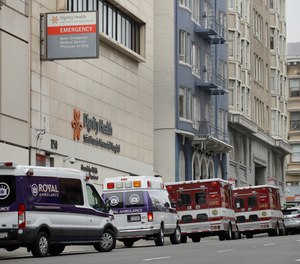 "COVID-19 is challenging healthcare systems across the country, with many communities already seeing an increased demand for EMS, emergency department and critical care services," the webinar description reads. "A systems approach to developing crisis standards of care, defined as 'substantial change in unusual healthcare operations and the level of care it is possible to deliver,' is critical for EMS systems preparing for any public health emergency."
The three panelists who will present during the webinar are James G. Hodge Jr., JD, LLL, director of the Center for Public Health Law and Policy at Arizona State University, John L. Hick, MD, deputy chief EMS medical director and medical director for emergency preparedness at Hennepin County Medical Center in Minneapolis, and Aaron Burnett, MD, FACEP, EMS medical director for the state of Minnesota, who helped implement recent changes to aid the state's COVID-19 response.