3 key considerations for improving EMS workplace safety
How can EMS agencies prepare for the future and ensure the safest possible workplace for their employees?
---
Sponsored by Stryker
By Shawna Renga for EMS1 BrandFocus
The Occupational Safety and Health Administration requires employers to recognize and mitigate risks for employees. EMS agencies must consider a variety of factors, from infection control to transportation safety standards to personal protective equipment.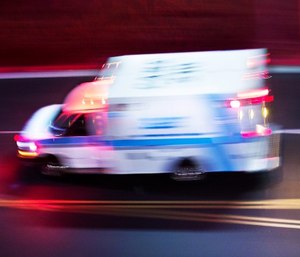 Beyond existing safety standards, how can EMS agencies prepare for the future and ensure the safest possible workplace for their employees?
Safer Equipment
Between 1986 and 2017, the prevalence of severe adult obesity increased from one in 200 Americans to a startling one in 13. According to the U.S. Department of Health and Human Services, two out of three adults in the United States are currently overweight or obese, meaning the average patient under the care of EMS providers is more likely to be overweight or obese now than in previous years.
Traditional manual cots may no longer adequately address the safety issues surrounding the lifting and moving of patients, considering the overall increase in patient weight. By investing in powered patient transport equipment, EMS agencies can better accommodate the future patient population and protect providers from workplace injuries caused by lifting and moving patients.
Use of powered equipment, such as the powered system by Stryker, significantly reduces spinal loading and exertion during patient moves, reducing the likelihood of provider injury. Assisted loading systems support the cot throughout the loading and unloading process and eliminate the need to steer the cot during loading and unloading, further reducing the burden on providers.
Safer Ambulances
One of the most dangerous aspects of EMS work is operating and riding in an ambulance. An estimated 4,500 ambulances are involved in a crash each year. Nearly 60 percent of those crashes occur during emergency use, and 35 percent result in death or injury to an occupant of the vehicles involved.
A NIOSH study conducted during the development of the most recent safety standards for ambulances standards showed that the force of a front impact at 30 mph was significant enough to cause a cot to break free of the traditional antler-and-rail securing system. Once free, the cot and patient were thrown forward into the space usually occupied by the jump seat [1]. The new SAE standard requires that the cot be configured in such a fashion that forward movement of the cot and patient during a front-end collision is limited to 14 inches, rather than the previous 30, protecting both the patient and the providers in the patient compartment [2].
Agencies seeking to maximize the safety of their employees and patients should invest in cot mounting and loading systems that are compliant with current safety standards. By upgrading and retooling all ambulances to SAE compliant systems, EMS providers ensure the safety of providers and patients alike.
When used with a compatible Performance-PRO manual ambulance cot or Power-PRO XT powered ambulance cot, the Stryker Performance-LOAD manual cot fastener system meets SAE standards for securing a cot during transport. The same Stryker floor plate that Performance-LOAD attaches to on the floor of the ambulance can easily be upgraded to accommodate Stryker's Power-LOAD cot fastening system. This system is also SAE-compliant when used with the Power-PRO XT ambulance cot.
Safer Providers
Traditional EMS instruction focuses on the hallmark concept of scene safety. EMTs and paramedics are encouraged to not enter a scene unless it is safe and all hazards have been mitigated, and to immediately flee a scene that becomes unsafe. However, that traditional approach of keeping EMS providers away until all threats are secure is no longer considered to be the most effective approach for every situation.
Recent active shooter incidents have caused the public safety community to adapt the role of EMS providers at what would once be considered an "unsafe" scene. By training EMS providers to enter a scene with law enforcement officers providing immediate protection, agencies are able to provide immediate, lifesaving care to patients who might have died had that care been delayed.
More EMS agencies are considering or adopting body armor to enhance provider safety. Several recent incidents have garnered national attention, highlighting the frequency of attacks on EMS providers while on the job. Compared to the national average workforce, EMS providers are 22 times as likely to experience a violence-related injury.
While body armor or similar protective clothing is not yet the norm in EMS, it is likely to become part of the standard personal protective equipment worn by providers in the future.
Adapting to Changing Needs
EMS is a dynamic and changing field, and safety measures must likewise evolve. Powered cots and loading systems provide a sensible adaptation to better accommodate current and future patient populations and lower physical stress on EMS providers, as well as promote compliance with current ambulance safety standards.
It's also important to consider the scope of PPE for EMS providers. By recognizing the potential for dangerous situations for their employees, agencies can provide training in current best practices for scene safety and adequately outfit their people with appropriate protective equipment for violent situations.
References
1. Castillo, Dawn, Thomas Bobick, and Stephanie Pratt. "New Research and Findings from the NIOSH Division of Safety Research." ASSE Professional Development Conference and Exposition. American Society of Safety Engineers, 2013.
2. "Ambulance Patient Compartment Seating Integrity and Occupant Restraint." J3026. Web. 13 Mar. 2016.
About the author
Shawna Renga, AS, NREMT-P, currently works as an instructor for the United States Coast Guard Medical Support Services School in Petaluma, California, providing EMT training for helicopter rescue swimmers and Coast Guard corpsmen. She also works part-time for a private ambulance company and lives with her husband and two sons in Sausalito.

Request information from Stryker
Thank You!