Ohio county supports needle swap program
Fighting the spread of blood-borne pathogens in the midst of the state's severe opioid crisis
---
By Marlene Harris-Taylor
The Blade
TOLEDO, Ohio — The Toledo-Lucas County Health Department will soon begin a local needle exchange program aimed at preventing intravenous drug users from contracting HIV or Hepatitis C.
The health board voted unanimously Thursday in support of starting a program which will be administered at two local sites. Both the Talbot Center, a drug addiction recovery center in East Toledo, and St. Paul United Methodist Church downtown have agreed to be access points for the exchanges, said Kelly Burkholder-Allen, acting director of health services.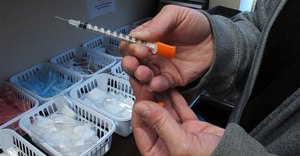 These agencies are located in "two heavy-hitting ZIP codes where there's been a lot of [overdose] deaths," Ms. Burkholder-Allen said.
The dramatic increase in misuse of opiates, including heroin, in Lucas County has increased the number of injection drug users, according to the health department's opiate task force. The injection users comprise approximately 70 percent of the yearly overdoses locally.
Dr. David Grossman, health department medical director, has been advocating for a number of years for this type of program in the local community. State lawmakers, however, first had to change Ohio law to make these exchanges legal, he said.
"It's purely for risk mitigation and trying to decrease the incidence of these two diseases which are, one, somewhat treatable and, two, when they are they are very expensive," Dr. Grossman said.
Hepatitis C is a liver infection caused by the Hep C virus and most people become infected by sharing needles or other equipment to inject drugs, according to the Centers for Disease Control and Prevention.
People using and sharing needles while injecting heroin is also a major source of the spread of HIV, said Ms. Burkholder-Allen.
The exchange program would provide drug users the opportunity to register to receive a kit once a week that would include sterile needles, syringes, a cooker, and a needle disposal box. The program would also provide opportunities for drug counseling, access to the opiate overdose reversing drug naloxone, and other social services.
"The damage that can be done by old syringes because after awhile they get dull and they get blunt and you start jabbing around — it causes a lot of damage," she said.
Health officials said it is difficult to get an accurate picture on the number of drug users who contract diseases from needles each year because "very few are truthful when asked if they shoot up," said Shannon Lands, spokesman.
"Also, we now have good reason to believe that a significant number of IDUs get infected with HIV, and die from an overdose before they ever get tested for HIV," she said.
The Toledo area would be the last major metropolitan area in Ohio to start a needle exchange program. There are also several Michigan communities that have them, including Detroit and Flint, Ms. Burkholder-Allen said.
Health Board member Matthew Heyrman said even he didn't realize such a program didn't exist in Lucas County.
"An urban community of our size and maturity should absolutely have a program like this," Mr. Heyrman said.
The health board approval was just the first step to getting the program off the ground. Health officials now have to find money to pay for supplying the kits to the exchange participants.
One possible funding source is the Lucas County Mental Health & Recovery Services Board. Executive Director Scott Sylak said he expects to receive a request, and his board has signaled an openness to the idea.
"For a modest investment you can potentially prevent millions of dollars in health-care-related cost," he said.
There is also support in the local community for this type of program, he said. Some 54 percent of respondents to the 2015 Lucas County Heroin Survey, conducted by his agency and the health department, said they would support a needle exchange program.
Copyright 2016 The Blade