Jon Stewart lashes out at Congress over 9/11 first responders fund
Advocate and comedian slams lack of attendance at hearing on a bill that would ensure first responder benefits for 70 years
---
By News Staff
WASHINGTON — Comedian Jon Stewart lashed out at Congress Tuesday for failing to ensure that a victims' compensation fund for the 9/11 attacks never runs out of money. Stewart was speaking on Capitol Hill about the need to reauthorize the James Zadroga 9/11 Victim Compensation Fund.
According to the Associated Press, Stewart angrily called out Congress for failing to attend a hearing on a bill that would ensure benefits for the next 70 years for first responders who were victims of the 9/11 attacks. CBS News reports that a little over half of the 14-member subcommittee members were present.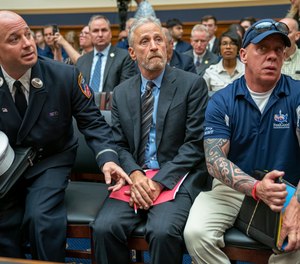 "I can't help but think what an incredible metaphor this room is ... a filled room of 9/11 first responders behind me and in front of me, a nearly empty Congress," Stewart said at the hearing. "Sick and dying, they brought themselves down here to speak to no one ... shameful."
Congress passed the James Zadroga 9/11 Health and Compensation Act in 2010. The $7 billion fund was reauthorized in 2015 for 90 years, but a key portion – the Victim Compensation Fund – was only funded for five additional years. According to CBS News, over 11,000 types of cancer have been reported since the attacks, ranging from Glioblastoma and lung cancers.
Stewart has championed for the act since 2010 and has since become a vocal advocate for 9/11 first responders. He called the lack of attendance at Tuesday's hearing "an embarrassment to the country and a stain on the institution" of Congress.
Jon Stewart testifies for September 11 Victim Compensation Fund: "Accountability doesn't appear to be something that occurs in this chamber…I'm sorry if I sound angry and undiplomatic, but I am angry, and you should be too." pic.twitter.com/njxJzSmzSJ

— CSPAN (@cspan) June 11, 2019
The audience in the hearing room gave Stewart a standing ovation after his speech.