How leaders can safely communicate about suicide prevention
In a recent webinar, experts shared best tactics for suicide prevention messaging in public safety
---
By Amanda Lien, Editorial Assistant
Although the public safety sector ‒ including law enforcement, corrections, the fire service and EMS ‒ has seen significant success in raising awareness about suicide among first responders, the messaging used to promote awareness can sometimes cause unintentional harm.
During a webinar presented by Lexipol and the National Action Alliance for Suicide Prevention, public safety professionals shared actionable steps that can be taken to create empathetic and effective messages that support suicide prevention efforts and focus on solutions. Regardless of rank or position, public safety professionals can learn to convey messages of resiliency and hope while promoting positive and help-seeking behaviors.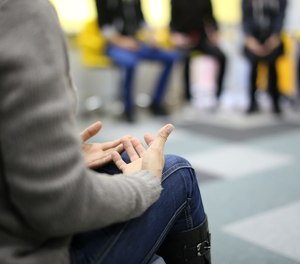 Move away from "messaging for awareness" toward "messaging for action"
The most effective messages are those that clearly encourage the action of seeking help, said Captain Scott Salvatore, chief of psychological health and readiness at the U.S. Department of Homeland Security. Sharing concrete action steps, such as contact information for peer support teams or counseling services, empower those who may be struggling to reach out for what they need.
"There's a lot more we can be doing," said John Morrissey, former chief (ret.) of the Kenosha (Wisconsin) Police Department and a task force co-lead for the National Action Alliance for Suicide Prevention. "How is your peer support team communicating? Do you share articles or encourage people to attend conferences? When we push that kind of message, that can make a big difference."
Avoid messaging that can increase the risk of someone taking their own life
Research has found that certain suicide-prevention messages can, in theory, increase risk among individuals already considering taking their own life. Graphic descriptions or details of a suicide attempt could lead to imitations, and messaging that focuses only on negative data can promote a feeling of hopelessness.
"Rather than reinforcing the stigma of mental illness, reinforce the fact that suicide is a public health issue," said Erin Oehler, associate project director for the National Actional Alliance for Suicide Prevention. "Avoid words and images that convey despair or loneliness or helplessness. Focus on the benefits of seeking help."
Create messaging that conveys help is available
Oehler said the most effective messages convey both hope and empowerment. When messaging to internal personnel, educate them about warning signs and empower others to access resources and professional help, whether through posters, personnel training or something more.
"The best thing to do is connect people to resources and help from professionals," she said. "Always keep in mind that your message has to focus on action and on a strategy."
For more information and education on some of the best ways to safely communicate about suicide, including a recorded question-and-answer session with industry leaders, view the On-Demand webinar here.