'Hangover IV' marketed as dehydration cure
Partygoers and professionals alike are embracing IVs for rehydration therapy
---
ALBUQUERQUE, N.M. — Had a wild night? Some are ditching Pedialyte and greasy breakfasts for a new kind of hangover cure: IV rehydration therapy.
The practice has already caught on in cities like Las Vegas, where partying to the point of dehydration is common. Now, WSPA News reports that people in smaller cities like Albuquerque have started asking nurses or doctors to administer an IV to cure their dehydration and hangovers.
People who use IV rehydration therapy said it works faster than taking in fluids orally.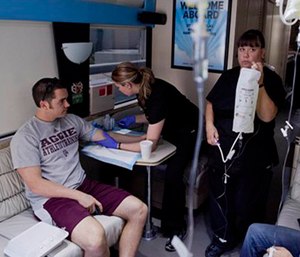 Christopher Hall, the owner of Alternative Health Care in Albuquerque, said that while hydration therapy isn't a new practice, it caught on with the public after embracing the "Hangover IV" label.
However, Hall said that professionals, "even EMTs," visit his clinic to rehydrate after long shifts — not just people who went drinking the night before.