Building a strong EMS team: Overcoming conflicts
When team members do not mesh well, it can add stress to an already stressful environment
---
This article was updated March 27, 2017.
By Allison G. S. Knox, American Military University
Working in emergency medical services can be extremely stressful for responders. To provide the best service to patients under such conditions, it's critical that EMS teams be comprised of a group of trusted people.

However, building a strong team is easier said than done. When team members do not mesh well, it can add stress to an already stressful environment. It is important for those in EMS to know how they fit into the team environment and contribute to the overall team effort. Individuals must also know how to effectively diffuse and overcome any challenges that may arise within the team.

Some scholars argue that individuals come together with the "forming, norming, storming, performing" framework. According to researcher Judith Stein, under this framework, people essentially need to figure each other out and work out their differences. After doing so, they are much better able to effectively perform as a team.
DISCUSS ISSUES OPENLY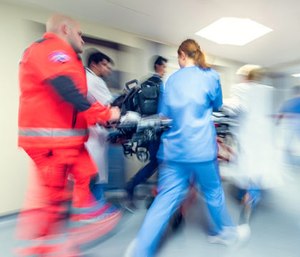 In all teams, it is inevitable that there will be conflicts among members, which can make it difficult to work together. When this situation arises, it is important for team members to talk out their differences directly. It does not help the situation or the team performance to turn the situation into gossip. When team members discuss their differences openly, they are often able to come to a resolution.
TURN TO MEDITATION
There may be times when team members cannot work out their differences. When this happens, mediation can often be an effective solution. In EMS, it is important to discuss these issues with the chief or another person in a managerial position. The goal is not to get someone into trouble but rather to come to a mutual understanding and compromise over the issue at hand.
Especially in EMS, it is important to have strong and collaborative teams. Ultimately, each team member is responsible for his or her role in the team and must figure out how to work together and to iron out differences before it becomes an issue. Speaking to each other about these issues in a civilized fashion is ideal, but mediation may be needed if initial discussions are not constructive.
About the author:
Allison G. S. Knox is on the faculty at American Military University. An emergency medical technician and a political scientist, Allison's research interests are comprised of federalism and emergency management/emergency medical services policy issues. Prior to teaching, Allison worked in a level one trauma center emergency department and for a member of Congress in Washington, D.C. She holds four master of arts degrees in emergency management, international relations, national security studies and history. She also holds a graduate certificate in homeland security, a bachelor of arts in political science and is working on her doctorate.  Allison currently serves as the Chapter Sponsor and Faculty Adviser for the West Virginia Iota Chapter of Pi Gamma Mu International Honor Society, is the Faculty Advisor for the Political Science Scholars and also serves as the Chancellor of the Southeast Region on the Board of Trustees for Pi Gamma Mu International Honor Society. To contact the author, please send an email to IPSauthor@apus.edu.