EMS Week 2022: 3 ways to celebrate
"EMS: Rising to the Challenge" is more than just a theme – it's an indisputable fact
---
More than two years after the start of a global pandemic and in the face of labor shortages, rising inflation and soaring gas prices, EMS providers continue to meet the moment and show up for their communities as they look to celebrate EMS Week 2022. 
This year's theme, "EMS: Rising to the Challenge," is a fitting description of how the EMS industry has weathered the last year – by adapting to the needs of the communities they serve. 
We've compiled a list of ways EMS organizations can spotlight their value and commitment to the community, and we encourage you to leave tips in the comments for ideas that may have worked for your agency in the past.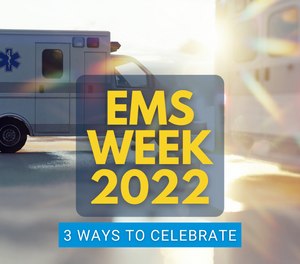 Don't assume your local newspaper will independently realize the importance of EMS Week; make them understand. Here's how:  
Tip: Don't gloss over the details. It's often the unspoken moments of a call that are the most rewarding. The hand squeeze of a nervous patient looking for reassurance, the smile of a child after they are put at ease over a sick parent – these are the connections that tie the work EMS does to the community's overall wellbeing.  
2. Plan theme-related activities 
Each day of EMS Week is centered around a specific theme: 
Monday: EMS Education Day. Compile a list of community educational programs that are available and distribute it via social media or other outreach avenues. This could include in-person or virtual opportunities for citizens to learn how to prevent falls, burns, poisoning or drowning.   

Tuesday: Safety Day. This broad theme allows an agency to focus on risk and prevention needs and promote safety measures within the community and the industry. It can encompass everything from emphasizing the importance of self-care and mental health awareness, to scene or roadway safety measures.   

Wednesday: EMS for Children Day. This is an opportunity for EMS agencies to reach out to parents in the community and make them aware of the specialized need for treating children in a prehospital setting. Consider planning an education event for caregivers on pediatric first aid, emergency preparedness and car seat safety.  

Thursday: Save-a-Life Day. With the increased number of mass casualty incidents occurring across the country, this is a day to highlight how community members can reduce their vulnerability during a tragedy. Through social channels and other outreach avenues, plan to offer community CPR and Stop the Bleed educational courses that empower bystanders to begin early interventions. Get started by becoming a Stop the Bleed program instructor in your area.   

Friday: EMS Recognition Day. This is the culmination of the celebration week – honoring those that put on the uniform and hit the streets shift after shift. Share pictures of your providers on social platforms, encouraging readers to "meet their local medics" and learn the "why" behind their decision to go into EMS.  
3. Work with local partners to increase visibility, awareness and appreciation 
Particularly after the last year, businesses and organizations are looking for ways to remain engaged with customers and promote a sense of community. You may find that many business owners in your area are open to the idea of donating gift cards or goods that recognize the work of local first responders.  
How to start:  
Identify businesses that have local owners, including franchisees 

Contact owners to explain the importance of EMS Week and the goodwill gesture of supporting providers in the community 

Request a donation – such as goods, cash or gift cards – that can be bestowed to providers during EMS Week 
Share photos and videos of providers receiving the donations and tag the business in social posts 
The goal of EMS Week is to reaffirm the benefits of local responders and their role in the community and to highlight the life-saving work of those dedicated providers. "EMS: Rising to the Challenge" is more than just a theme – it's an indisputable fact. 
Download a guide to writing an EMS Week press release for your agency by filling out the form below. 
This article, originally published in May 2021, has been updated. 
EMS1 how-to guide for writing an EMS Week press release