Roadway safety tips for responders discussed at session
David Bradley, an education and training specialist said a significant number of EMS providers are killed annually while operating on roadways
---
By Jamie Thompson
EMS1 Senior Editor
BALTIMORE — The need for communication, coordination and pre-planning were stressed during a session at EMS Today in Baltimore on Friday about roadway safety for EMS personnel.
David Bradley, an education and training specialist for VFIS, a subsidiary of the Glatfelter Insurance Group, said a significant number of EMS providers are killed annually while operating on roadways.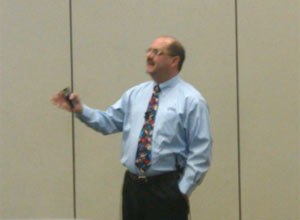 Outlining measures that can be taken by agencies to reduce the risks, Bradley said training with other agencies, tabletop exercises, simulators, post-incident analysis and pre-planning can all have a considerable impact.
"If you've got an area where you know as soon as it rains a crash is going to happen then pre-plan those," Bradley said. "We pre-plan buildings on the fire side; we should pre-plan roadway threats."
When it comes to multi-agency vehicle responses, Bradley said responders need to:
Assure the first emergency vehicle that arrives establishes an initial block to create a safe work area, establishes command and deploys traffic control devices if safe
Assess the parking needs of EMS, later-arriving fire apparatus and other responders
Ensure high visibility reflective vest or appropriate PPE is worn
Referring to the initial block, Bradley said, "Get whatever you can that's big, something that can stop things. We are not typically going to stop a tractor trailer but we will deflect it."
Responders also need to be thinking about situational awareness at all times during roadway responses, the session was told.
"Anytime you're moving, think about where you are," Bradley said.
"Don't just walk into traffic thinking they can see you — all they can see is the big vehicle. They don't see the small human coming by it."
Bradley went on to highlight the general provisions agencies should take for training and pre-planning, such as ensuring all personnel understand what is expected and required during roadway responses.
In addition, he told the audience there needs to be planned and agreed upon actions, a resource document upon which to base training, that required actions have been anticipated and that SOPs are written.
"SOPs give you guidance, they get everyone on the same page and make sure that everyone is protected to the best of your ability," Bradley said.