IWCE 2010: Pryme releases tactical remote microphone and Bluetooth adapters
WTX-4100 Tactical Microphone and PRYMEBLU newest products from innovation company
---
By Scott M. Bruner 
EMS1 Product Editor
This year's IWCE 2010 show in Las Vegas provided a unique opportunity for developers and manufacturers to present their newest wares – and their most innovative technologies. Perhaps some of the most intriguing new devices came from Pryme Radio Products, who not only manufacture, but also design all of the products they had on display at IWCE 2010.
During the show, they rolled out two of their newest products, PRYMEBLU, a line of Bluetooth adapters for two-way radios, and the WTX-4100 series of tactical remote speaker microphones.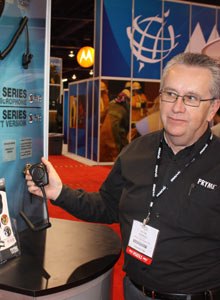 The new WTX-4100 series are specifically designed to provide dynamic flexibility for public safety. The microphones come with three different methods of providing push-to-talk capability. There is the traditional side-mounted PTT switch, along with a patented, front-facing PTT that is activated by actually pressing the microphone. Finally, a third button can be worn on a finger and attached to any convenient or covert location. It allows for attachment to a firearm or the handlebars of a bicycle.
The WTX-4100 also comes with a waterproof threaded accessory jack that can be connected to an earphone, throat microphone, or a number of other accessories. Pryme explains that its durability is one of the main advantages to the house-developed microphone.
"The ruggedness is what's special about it. It's public safety grade and the big button on the PTT is a feature that especially firefighters really like and it's easy to operate," David George, president of Pryme, said.
The new series of PRYMEBLU wireless adapters allow Bluetooth headsets to connect with land mobile two-way radios. The same headset can be used with both a cell phone and with the radio with the PRYMEBLU adapter. The accessory jack allows the user to connect to any PRYME QuickDisconnect series wired accessory, including remote push-to-talk or lapel microphones, in combination with the wireless headset.
One feature is it can allow radio communication to be more covert than constantly using the traditional radio for two-way communication.
"The PRYMEBLU can be particularly useful for security, and for US marshals, who tend to like it for courtroom duty," George said.
A status LED is able to indicate a compatible audio accessory to link up. The adapters can be used on thousands of Bluetooth headsets and can remember their paired connections. The PRYMEBLU adapter is powered by the radio itself and does not need to be charger or rely on batteries. Their Bluetooth adapters work on all Motorola GP series and the Motorola Turbo.
Pryme has been in business for 20 years and designs and manufactures all of their own products.
""We invent things. If it makes sense, we will start developing it. When you invent, you're responding to the market. With our GPS microphones and Bluetooth adapters, people were asking for them."
For more information, visit www.pryme.com.