IWCE 2010: New two-way radios among Vertex Standard announcements
Radio manufacturer rolls out new radios and plans for digital radios
---
By Scott M. Bruner 
EMS1 Product Editor
At March's IWCE show in Las Vegas, communications designers and manufacturers came together to present their wares and, in some cases, make a little news. Japanese company Vertex Standard had two announcements of product news of interest to first responders. They announced a new series of two-way analog radios, the VX-4500/4600 as well as the new VX-450 Series for industrial applications. In addition, they released plans to enter the digital age with a series of digital radios to be released later this year.
The VX-4500/4600
The new VX-4500/4600 series offer 2-tone and 5-tone encode/decode and MDC-1200 encode/decode along with voice inversion encryption built into the unit. They include channel announcement and an emergency alert.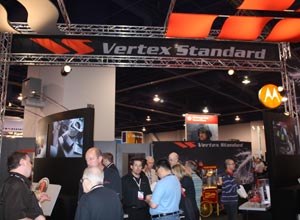 "These radios are designed for low-end public safety, high-end commercial industrial users in the marketplace," said Chris Lyons, Vertex Standard's director of global product operations. "What's neat about them is that they've got a lot of channels, a lot of embedded signaling, voice aversion scrambling –not high security encryption – and it enables users to avoid people readily eavesdropping on conversation. It's got channel announcements where the radio announces the channel. It's a suite of features we haven't had before."
Frequency ranges include 134-174 MHz, 400-470 MHz and 450-512 MHz with no sub-bands. Both radios will come with a three-year warranty stateside. The new radios were on display at Vertex' booth at IWCE.
Digital Radio Strategy
Vertex also announced plans to begin making digital radios. The new radios will be based on two-slot, Time Division Multiple Access (TDMA) 6.25 kHz digital tech. According to Vertex, the new radios will be designed to provide improved audio clarity and a wider range than analog counterparts.
"We understand our customers are evolving their radio communications needs seeking solutions that make them more productive and are more cost-effective. Vertex Standard is committed to developing digital communications to bring customers a new choice in TDMA digital technology that provides double the capacity on existing licensed channels, increased coverage, longer battery life and superior audio performance," Mike Gray, North American LMR sales vice president, said.
Vertex is a founding member of the Digital Mobile Radio (DMR) Association, and the new radios will be based on the protocol, the ETSI DMR Tier 2 open standard. The radios will be released later in 2010 along with a new portable, mobile repeater to provide an entire DMR system. The radios will be able to operate in analog or digital modes in order to assist with agencies making the digital leap.
Vertex Standard Co. Ltd. is a Japanese company that has been engaged in radio communication products for land, marine, airband, and amateur for over 50 years. They are the makers of the world's smallest P25 portable radio in the world, the VXP829. For more information, visit www.vertexstandard.com.