Dutch providers test, train on Ford Mustang Mach-E electric ambulance
Broeder de Vries is trying out a specially outfitted Mustang Mach-E
---
By Leila Merrill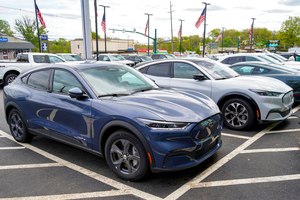 An agency in the Netherlands has started using the Ford Mustang Mach-E to help train EMS providers who drive ambulances, according to FordAuthority.com.
Broeder de Vries, which is part of a Dutch Medical Group from Lijnden, provides ambulance service, training in medical care and driving skills, and other services. 
Broeder de Vries has been using ambulances made by Ford and has been transitioning its fleet to plug-in hybrid vehicles. It recently added the Mach-E, an all-electric SUV, which is being used as a test vehicle in the driver skills training program.
This is not the same vehicle for sale to the public. The Broeder de Vries vehicle has been outfitted as an ambulance by Tulatech.
Broeder de Vries plans to update its unique vehicle based on driver feedback and to consider further testing.

Request product info from top EMS Vehicles companies
Thank You!