PRESS RELEASE
What Clients are Saying About GawkStopper the Premier Portable Scene Barrier System
---
GawkStopper is the Premier Portable Scene Barrier System on the market. Our quick and efficient tool can be used for many different applications such as:  securing your incident scene by holding up a barrier (attach a spot light for night use); an object to tie off to for caution tape when there is nothing else to tie off to; an LZ (landing zone) marker for helicopters (attach a beacon); a battering ram; a warning device for traffic (attach any magnetic light); a barricade for high water detours; attach a tarp to the top of the GawkStopper stands to create a roof to get out of the rain or sun.
Whatever your needs are, GawkStopper is the tool you have been looking for.
Read what some of our clients are saying about GawkStopper: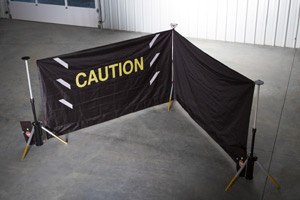 "I have been in emergency services for 22 years.  In that time I have witnessed some terrible incidents that the public should not be exposed to.  In trying to prevent innocent bystanders from seeing gruesome and horrific accidents our only option was holding up sheets and/or tarps.  Now the GawkStopper System allows us to effectively perform scene preservation without the wasteful use of valuable manpower.  It also helps prevent unwanted rubbernecking, which often leads to secondary accidents… and provides a safer working environment of our personnel."
"The GawkStopper sets up easily in a matter of seconds.  Once set up, it's a self-supporting system that provides a secure shield, allowing personnel to be utilized in areas that are needed instead of holding up a tarp.  We now let the GawkStopper System do that for us."
I wish this product had been available many years ago.  It helps preserve an incident scene and can help save lives!"
- Scott Justus, Firefighter – Hendersonville, NC
"I have used the GawkStopper at a motor vehicle crash scene and it worked very well. It blocked the view of the passerby so that they could not see the crash scene."
- Rodney Diggs, Fire Chief - Anson County Emergency Services
"This system will provide first responders with a safer work environment and allow for more personnel to assist with the actual incident rather than holding up tarps or attempting to block the scene from onlookers."
- Joseph M. Vindigni, Fire Chief - City of Hendersonville, NC Fire Department
"On a public crisis scene, it is often difficult for a Trauma Intervention Program (TIP) volunteer to find a private place to interact with family members and provide comfort and resources.  I can think of many instances where having a Gawk Stopper would have been extremely helpful by allowing our volunteers to support victims in privacy without having to request they step away from the scene."
- Mandy Atkission, Chief Development Officer, Trauma Intervention Programs, Inc.
Learn more about the GawkStopper:
http://gawkstopper.com/