PRESS RELEASE
RAM Mounts Announces the RAM POD Universal Vehicle Mounts
---
use if there is a picture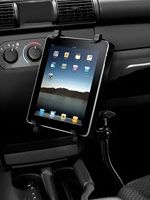 end picture
Universal RAM POD vehicle mounts are a versatile platform for mounting laptops, netbooks and iPads. With no drilling required, RAM POD mounts include rigid flexible rods that will attach to existing vehicle hardware such as seat rail bolts. These No-Drill options install in minutes and provides a flexible goose neck for positioning. Put a ball and socket at the top and you have a platform ready to support your electronic device. RAM POD mounts prove to hold most electronic devices, safely and securely.
About RAM Mounts
use if there is a picture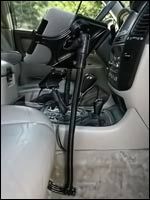 end picture
RAM stands for Round-A-Mount and got its start in 1995. Most of the product line is based on a patented design revolving around a rubber ball and socket system. Far and away the most innovative product line of its kind, RAM continues to evolve into one of the most sought after accessories for electronics. RAM products have quickly become an essential mounting component for a wide variety of applications including rugged vehicle, industrial, military and defense, material handling as well as any application requiring a robust mounting solution. Incorporating a non-slip feature as well as shock and vibration dampening, our often imitated but never duplicated mounting solutions are truly one of a kind and enhance every application they are used in. Unwilling to compromise durability and versatility, many RAM products are available to support devices from less than a pound up to 185 pounds. Utilizing the finest assembly hardware, durable composites, steel, stainless steel, rubber, and aluminum, our mounting bases and complete kits are manufactured to perform above expectations and remain cost effective.