PRESS RELEASE
RAM Mounts and GammaTech Team Up to Offer Mounting Systems for Secure, In-Vehicle Durabook Computer Usage
---
Easily Installed into Passenger-Side Seat Frame; Dual Swing Arms Provide Articulation and 12" of Reach for Easy Passenger and Driver Access
Seattle, WA & Fremont, CA - RAM Mounts and GammaTech Computer Corp. today announced that they have teamed up to provide vehicle mounts to securely hold a variety of Durabook units in patrol cars and other police vehicles. RAM's Tough-Tray™ universal laptop tray perfectly adapts to GammaTech Durabook's rugged convertible U12C models, rugged S15C and D14RM, and fully rugged convertible R13S. The units will be on display at the 118th IACP Annual Conference in Chicago's McCormick Place West from October 22 through 26.  RAM Mounts is located at booth #1166 and GammaTech is at booth #2658.
"We are pleased to team up with RAM, a major player in designing and manufacturing a wide variety of mounting solutions," commented Paul Kim, GammaTech's VP of Sales and Marketing. "The combination of our rugged and fully rugged Durabook computers and RAM's innovative mounts makes for an extremely effective, secure mobile work station that is up to the rigors of life inside a patrol car. Now, critical information is always protected and within easy reach."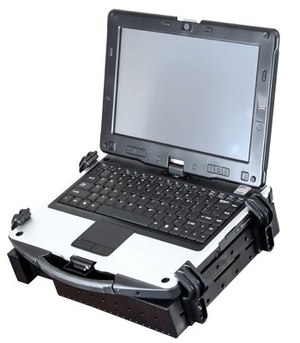 "We are absolutely delighted to be working with GammaTech and mutually supporting Public Safety initiatives across the nation," stated Aaron Hersey, RAM Mount's Director of Sales and Marketing.  He continued, "We are dedicated to providing agencies across the nation with access to solutions that give them peace of mind, procurement flexibility and cost savings without compromise."
The lightweight, RAM® Durabook mount isolates shock and vibration, keeping the model secure at all times. Each mount installs quickly and easily using the existing hardware of the passenger-side seat rails. This configuration provides a telescoping feature that ranges from 12" to 18". Adjustable dual swing arms provide articulation and 12" of reach. Users can comfortably work on their Durabook unit from either the driver or passenger seat. A patented rubber ball-and-socket joint provides added adjustment and additional shock and vibration isolation.
The Durabook models are easily accommodated in the RAM® spring-loaded Tough-Tray™. The tray features four adjustable retaining arms that may be moved vertically and horizontally, allowing for a custom fit without blocking any ports or drives. A screen support and USB light are also available to accessorize the tray.
Over the last two decades GammaTech has positioned itself as one of the world's largest designers, manufacturers, and sellers of rugged and hardened notebook and tablet computers that are two-steps ahead of the competition. Please visit them at IACP booth #2658.
For over a decade, RAM Mounts has been synonymous with quality and performance.  They are displaying their comprehensive line of solutions at IACP booth #1166.
Availability
To order a RAM vehicle laptop mount for GammaTech applicable Durabook models, visit the Laptop Mount Wizard at www.ram-mount.com and then follow the three easy steps to custom select the product designed specifically for your needs.
IACP 2011
GammaTech will proudly feature these RAM Durabook mounts in its booth (2658) at the upcoming International Association of Chiefs of Police Conference and Exposition. The event will be held at McCormick Place West in Chicago from October 22 through 26.
For more information, please visit IACP at http://www.theiacpconference.org/iacp2011.
About GammaTech Computer Corporation
For over two decades, GammaTech Computer Corporation is a leader in the design, manufacturing and sales of rugged notebook and tablet computers throughout North America. GammaTech promotes its award winning, built-to-order durable mobile computers to businesses, government, healthcare, fire, law enforcement and public safety entities. GammaTech is headquartered in Fremont, California, which provides the final assembly, inventory, service and technical support. 
For more information, please visit GammaTech at www.GammaTechUSA.com.
About RAM Mounting Systems
RAM is a leading manufacturer in rugged, durable mounting systems and docking stations for mobile electronics.  RAM utilizes a patented ball and socket mounting system that allows you to mount practically anything anywhere.  With RAM's long list of custom solutions for virtually any application, you are sure to find the perfect solution for your mounting needs.  Made in the USA and backed with a Lifetime Warranty, RAM is your best choice for versatile mobile mounting solutions.
For more information, please visit RAM at http://www.ram-mount.com.