PRESS RELEASE
Mac's Ambulance Lift featured on Ford Transit Ambulance of the Future
---
Brought to you by Mac's Lift Gate
AEV, Ferno Middle East and Al Tayer Ford design "Ambulance of the Future" for demo at Arab Health Exhibition and Congress in Dubai.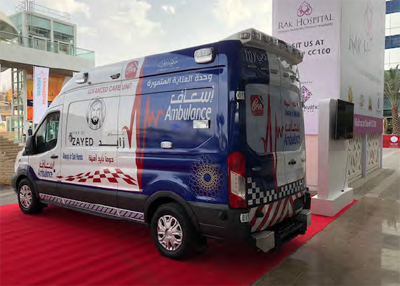 LONG BEACH, Calif. — More details about the custom Ford Transit Ambulance built for Arab Health 2018 in Dubai, UAE are finally available. Dubbed "The Ambulance of the Future", this unique design is the result of many companies working together to meet the needs of the customer, patient and industry. 
The ambulance was placed in a key location by the entrance and was seen by everyone entering and exiting the show. The Mac's Ambulance Lift was a dynamic part of the show vehicle. Our contribution was awarded the "Export Achievement Certificate" from the U.S. Department of Commerce, U.S. Commercial Service. 
Project overview:
Project Coordinating Sales Dealership; Ferno Middle East, Dubai , Principal Owner Mr. Simon Zerihun
Purchasing buyer of Chassis and project Al Tayer Ford of Dubai
Final intended End customer of entire project; Dubai Police/Dubai Corporation for Ambulance Services, Dubai AE
Major Contributors:
Ambulance Conversion built by American Emergency Vehicles, Jefferson NC.
Donation of Engineering, Sales and Financial Support to project courtesy of American Emergency Vehicles, NC.
Front overhead Aerodome, side warning and rear warning lights, LED Fog Lights courtesy of Whelen Engineering, CT.
Accent lighting, front and rear at Mac's Ambulance Lift courtesy of Vista Lighting Elkhart IN.
Donation of Engineering rear 12volt/ Hydraulic 1,000 pound Transit compact cot lift courtesy of Mac's Lift Gate Inc., Long Beach, CA.
Donation of Mac's Ambulance Lift for Ford Transit
Other featured items on this project:
Ferno Washington, Wilmington OH.
Intraxx Rail mounting system
Intraxx mounted cabinet system
InX intelligent patient transporter system
Intraxx mounted Defibrillator system
ACETECH Corporation USA

Electrical systems including full control for all systems

All warning lights
Interior Dome Lighting including Halo indirect lighting
HVAC
Fog Lights
Chassis monitoring
Driver and chassis behavior monitoring thru AVA
In-Gas monitoring and reporting of on board oxygen tank levels, line pressure to EMT and to home terminal

Acetech 4 camera Security system, on board DVR recording, satellite feed of images.
Acetech roof mounted Twin solar panel recharging system.
Acetech RFID asset monitoring system
Mobile Wire-less internet system WI-FI
Intelligent communication and announcement system.
Acetech AVI system.
Brigade 360 camera systems for birds-eye view when backing up, full 360 views around the vehicle.
AEV HALO interior lighting system – Direct White LED/ RED LED lighting with full multi-color indirect lighting available.
Commenting on the vehicle, Khalifa Hassan Al Daral, Chief Executive officer of DCAS, said "This ambulance is far more advanced than all of the previous ambulances we have had." "We looked at the best and most innovative equipment in the world and brought it to Dubai to help paramedics save lives." 
About Mac's Lift Gate Inc.
Mac's Lift Gate Inc. has been a family owned business since its creation in 1957. Dedicated to manufacturing lifts for homes and vehicles we manufactured our first ambulance lift in 1980 to pick up incubators. Since then we have worked extensively with the different ambulance and vehicle manufacturers. Their input has helped us to design the best lift possible. The Mac's Ambulance lift helps your staff to do their job safely, humanely and efficiently.
About American Emergency Vehicles
American Emergency Vehicles is a valued dealer and installer of Mac's Ambulance Lifts. American Emergency Vehicles is proud to have delivered this Ambulance of the Future to the vision of our Customer in Dubai with the dedicated partnership of Mac's Lift Gate, Whelen, Vista, ATSR Ireland/USA, Ferno Washington International and most certainly Ferno Middle East Dubai. AEV continues to be a pace-setting company to delivery products of the highest quality through outstanding reliability, innovative engineering, and robust product safety. It is through our dedicated and incredibly skilled efficient team of craftspeople nestled in the mountains of North Carolina that we are able to bring the future to life.