PRESS RELEASE
Dual Access Narcotics Cabinet Available from MedixSafe
---
use if there is a picture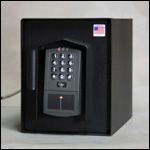 end picture
Memphis, TN – The MS I Narcotics Cabinet developed by MedixSafe is the first cabinet of its kind to implement a dual-access security feature. Unlike most other models on the market, which are opened with either a key or a PIN number, MS I requires two different credentials for entry: a unique PIN and a proximity card. This particular model was designed to accommodate many existing proximity cards and FOB's. The cabinet is also equipped with an internal memory system that stores the date, time, and name for up to 2,000 entries—all managed by a laptop computer using custom software.
For more information, visit the MedixSafe website at www.medixsafes.com or call Glenn Heard at 901-488-0686
About MedixSafe
MedixSafe is a product of ESSC, Inc., a Memphis-based corporation that has specialized in electronic security systems and computer network cabling since 1987. MedixSafe currently offers three narcotics cabinet models.