PRESS RELEASE
Digital Ally Partners With Zoll to Enhance Emergency Responder Safety
---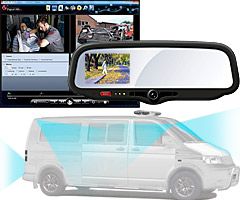 OVERLAND PARK, Kan. - Digital Ally, Inc., a leading provider of fleet video systems used by thousands of companies and governmental entities in all 50 states and around the world, has partnered with ZOLL Medical Corporation, a global leader in products and software solutions that help responders manage, treat, and save lives.

Digital Ally's Video Event Data Recorders (VEDRs) are now available with ZOLL's RescueNet Road Safety system to combine the liability protection and post-incident review benefits of video and audio recordings with the safety and operational cost benefits of audible unsafe driving warnings and driver reports.
When the RescueNet Road Safety system detects driving that is outside of acceptable parameter ranges, such as excessive speed, rate of acceleration and deceleration, and how the vehicle is driven while cornering, drivers hear an immediate audio warning to take corrective action and the system triggers Digital Ally's VEDR to record the incident, including a predetermined length of time before the event to capture what caused the unsafe driving. Video and optional audio is recorded for a preset length of time in front of as well as inside the vehicle. This ensures that the entire story is captured while simultaneously protecting drivers' privacy and drastically reducing storage requirements by not constantly recording.
Unfastened seatbelts, unknown driver activity or a potentially unsafe situation for backing up the vehicle will also trigger audible warnings and recordings. An optional third camera and integrated monitor in the VEDR may be used to record and gain visibility behind the vehicle when backing up, or the camera may alternatively be mounted in another location, such as the patient compartment of an ambulance. Recordings may also be activated through the simple touch of the VEDR button or an optional covert switch.
The combined benefits of the systems give drivers a clear understanding of what management expects, allows them to monitor and instantly correct their own driving performance, and provides proof of unsafe drivers or other factors that influenced their driving. Management gains valuable liability protection and proof against fraud, the ability to monitor driver behavior and provide appropriate training on areas needing improvement, and tremendously improved vehicle availability, maintenance, insurance and operational costs, and labor relations.
For more information, contact Digital Ally at 800-440-4947, 913-814-7774, sales@digitalallyinc.com or visit www.digitalallyinc.com, or contact Zoll at 800-474-4489, 303-801-0000 or visit www.zolldata.com.