PRESS RELEASE
Digital Ally Giving Away Video Event Data Recorder At The EMS Today Conference and Expo in Baltimore
---
Digital Ally, Inc. is a leading provider of fleet video systems, which are used by thousands of companies and governmental departments and agencies in all 50 states and around the world, including one of the largest ambulance service providers in the United States and the U.S. military. Digital Ally's Video Event Data Recorders (VEDRs) provide liability protection plus insurance and operational savings by providing proof in vehicular accidents and against fraudulent claims, inspiring safe and professional behavior, incident review for training purposes, monitoring blind spots or separate vehicle compartments, etc. without expensive ongoing contracts or surprise equipment and software fees.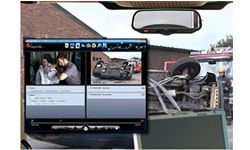 Digital Ally's VEDRs will be showcased in the new products area as well as Digital Ally's booth, #4022, at the show. Attendees are invited to stop by Digital Ally's booth to learn more about the systems and enter into a drawing for a DVM-250 model VEDR.
The DVM-250 and DVM-250Plus model VEDRs record and store video, audio and detailed information from vehicle involved incidents. Recordings may be set to automatically start by reaching specific speeds, driving within specified GPS corridors or ranges, and numerous other customizable options, including shifting the vehicle into reverse, emergency lights, door sensors, and more. Recordings may also be started manually, such as to record criminal actions of passengers.
To capture the actions that led up to an incident, as well as to allow for manual recording delay from human reaction time, 30 seconds prior to the moment a recording is triggered is also captured, which is referred to as "pre-event recording". For instance, an abrupt change in acceleration/deceleration, such as during a vehicular accident, sudden stop or other violent maneuver, can be set to automatically trigger a recording. However, if another person caused the incident, such as illegally turning in front of the VEDR-equipped vehicle, it will also be recorded, providing valuable protection to the driver and company.
Digital Ally's VEDRs are integrated into a rear-view mirror so that they do not interfere with the driver's line of site or take up valuable space. Their design allows for easy installation into any type of vehicle, including those that did not previously include a rear-view mirror. Integrated cameras and a microphone inside the rear-view mirror capture video in front of the vehicle as well as video and audio inside the vehicle. An optional third camera and monitor hidden behind the mirror glass are often used when backing the vehicle up or monitoring inside a vehicle compartment. The specialized one-way mirror glass allows this optional monitor to remain invisible while not in use.
Digital Ally's VEDRs record in D1 (720x480) high resolution video with customizable frame rates and record times. The systems utilize solid state memory, the most durable, vibration-proof and reliable medium for mobile video documentation. Recordings are saved onto 16GB of internal solid state memory with optional redundancy onto 8GB-32GB removable SD memory cards. Recordings may be downloaded from the SD memory cards, through USB or with optional wireless download. Attempts to tamper with recordings can be detected with authenticity verification and additional security is available through disabling the USB port when using wireless download and locking the SD card access door.
The systems come with the integrated GPS receiver/antenna, microphone and cameras, etc. as well as back office software. For more information, visit Digital Ally's EMS Today booth or contact Digital Ally at 800-440-4947, sales@digitalallyinc.com or visit www.digitalallyinc.com.