Mich. ambulance stolen, crashed after police pursuit
A suspect was taken into custody and sent to the hospital after crashing the stolen rig into a tree
---
By EMS1 Staff
FLINT, Mich. — A Michigan ambulance was stolen after its crew dropped off a patient and was crashed after a police pursuit shortly after midnight Tuesday.
STAT EMS said in a release that the ambulance crew had parked the rig outside a hospital as they transferred the patient and when they got back, the rig was gone.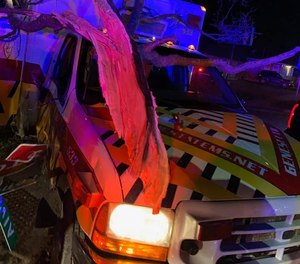 The EMS providers called 911 and were able to use an automatic vehicle locator (AVL) to determine where the stolen apparatus was traveling.
Police located the vehicle and began a pursuit that ended when the rig was crashed into a small tree, also knocking over a stop sign.
The suspect was taken into custody and sent to the hospital to be evaluated. No details about the suspect were released.
STAT EMS said there were no injuries to the crew and the incident remains under investigation.