Pulsara version 10.5 features new patient ID field
---
BOZEMAN, Mont. — Pulsara announced the release of the latest version of the platform. 
Help! Here in Montana, April is bringing only snow showers and an intense longing for warmer days. We may not be able to ID spring around here, but we have made it easier for you to ID patients!
Introducing our NEW Patient Identifier Field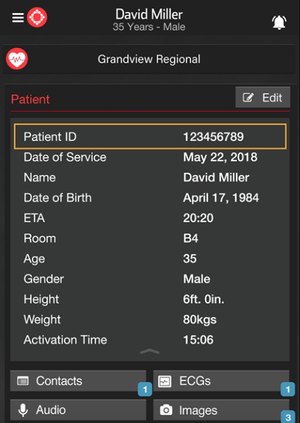 We added this feature as a direct result of some requests made by clients like YOU.
One recent request from a Stroke Coordinator said:
"We try and get the MRN in messages, but this can get forgotten. The overwhelming consensus and request I am getting is 'Can we make a field in Pulsara to enter this?' Because Pulsara has become so embedded in our process, it is important that we have patient identifiers when using it."
Well, we listened, and now Pulsara includes a field to clearly identify patients using a known value (MRN, CSN, Registration #, or Other).
In keeping with one of our core values, Simplicity, this identifier value will not show up for New EMS cases until after an alert is sent to a receiving facility. At that point, the Patient identifier label will reflect the appropriate value that the Hospital set up, and the value can be input by either the hospital or EMS users.
Note: You won't see this field until your friendly Admin turns it on for your facility. 
Flashing Icon for Transfer Requests
At Pulsara, we believe It's About People, and that's why we prioritize you and the data and features you need to accomplish your goals.  
In keeping with that philosophy, we present another client-requested feature: Incoming transfer requests now feature a flashing button. This helps ensure users know they need to (and haven't yet) either accept or decline a transfer request from another facility.
Bug Fixes
We've also been working to swiftly squash any client-reported bugs crawling around our beloved platform. These include an iOS crash issue after ending video calls, an errant case type toggling ability, and a missing contraindications list on Android. We may not be perfect, but we are responsive! 
One last thing: What iOS version are you using?
Just a heads-up that we will soon be dropping support for iOS 9. If you're currently running iOS 9, please upgrade your operating system, or reach out to your Pulsara Client Services Manager for help.
As always, let us know what questions you have, and happy "Spring" from a very cold Pulsara Headquarters.
About Pulsara
Pulsara prehospital alerting system is FREE for all EMS agencies and all hospitals.
Pulsara's easy-to-adopt platform connects the Emergency Response Team with a tap, leaving behind the communication complexity that slows critical care. Our applications seamlessly coordinate communication between the field (EMTs and paramedics) and between hospital staff (RNs, MDs, Techs, etc.) to improve the times and outcomes for critical care patients. Our native mobile apps, built atop a Cloud-based platform, instantly connect a patient's entire care team and shares vital patient data.

Request more info from Pulsara
Thank You!