PRESS RELEASE
Introducing Stryker's SideKick Disinfecting Wipes - disinfect and protect.
---
Visit us at EMS Today Booth #1205!
PORTAGE, Mich. — Stryker announced the North American impending release of SideKick Disinfecting Wipes on February 9, 2018 through social media.  SideKick is Stryker's first cleaning and disinfecting wipe that is 100% compatible with Stryker's EMS cots, chairs and fasteners. It is tuberculocidal, bactericidal, fungicidal and virucidal with a two-minute wet contact time.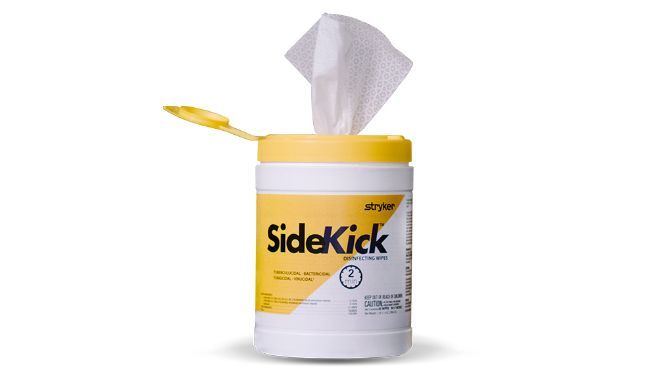 Product Capabilities
In the healthcare environment today, the high-touch surfaces surrounding patients are at-risk areas for harboring viruses, bacteria, and other pathogens. SideKick is an easy-to-use wipe that is both convenient and highly effective at disinfecting pre-cleaned, hard, nonporous surfaces with its two-minute wet contact time. Its broad-spectrum efficacy is tuberculocidal, bactericidal, virucidal and fungicidal.
SideKick is tested 100% compatible on 200+ materials used on Stryker's EMS cots, chairs and fasteners.1  It is both an effective cleaner and disinfectant. SideKick has a neutral pH of 7.6.  Because SideKick is a ready-to-use pre-moistened wipe formulation, there is no mess or potential for chemical mixing errors.
These wipes will be available in the United States and can be purchased through your Stryker EMS Account Manager.
Additional Information
Our EMS business specializes in powered EMS equipment. Since our entry into the EMS industry, we have focused on maximizing provider safety, while increasing ease of operation. We work in partnership with EMS personnel to understand the environment in which these products operate and the demands that are placed on them. Each design is tested to verify and validate safety, effectiveness and product performance.
To obtain more information on our SideKick disinfecting wipes, please contact your Stryker EMS account manager, or visit us at stryker.com/sidekick. 
About Stryker
Stryker is a leading medical technology company that is dedicated to helping healthcare professionals perform their jobs more efficiently while enhancing patient care. Stryker's EMS equipment provides innovative solutions to address a broad array of emergency transport needs, while reducing the risk of injury to medics and enhancing patient care. Stryker equipment is differentiated by key features such as low-force release mechanisms, powered hydraulic lift, ergonomically positioned handles, color-coded controls and rugged reliability.

Request more info from Stryker
Thank You!