PRESS RELEASE
Ferno Introduces the POWERFlexx+ Powered Ambulance Cot System
---
end picture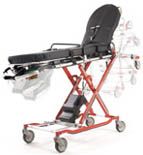 WILMINGTON, OH — Ferno has released the new POWERFlexx+ Powered Ambulance Cot System with advanced power management features that keep the batteries in the cot and out of your hands, so EMS Personnel can stay focused on delivering patient care.
The POWERFlexx+ System utilizes a 24 volt DC power pack with sealed lead-acid batteries, which have no "memory" and provide power for 20 or more full squad runs. A sleep mode helps preserve battery life and wakes up at the touch of the activation pad, so a strong charge is always there when you need it. The system is also available with the ICS – Integrated Charging System, which charges the batteries while the cot is in the fastener, so you never have to carry around extra batteries or take them out to charge.
The POWERFlexx+ System continues to offer industry leading 700lb unassisted lifting capacity. The cot lifts the 700lbs, not the operator, reducing the potential for injuries. Additional features include no pinch points, a 5-position load bar for greater maneuverability and multiple lift positions, and dual lifting cylinders and rails to provide smooth and even lifting for greater patient sense of security

In the lowest position the POWERFlexx+ can transport 1100 lbs. When combined with the removable LBS Bariatric Board, Bariatric Pull Cables, Manta Patient Transfer Sheet, and detachable push-pull handles, you have the flexibility to respond to any bariatric call and can safely move any size patient.

For more information on the full range of features, options, and accessories for the POWERFlexx+, contact Ferno at 877-733-0911 or visit www.ferno.com/powerflexx

Request more info from Ferno
Thank You!