DHS announces H2Rescue, a carbonless rescue vehicle for disaster preparedness
The vehicle is fully powered by a hydrogen fuel cell, mitigating the need for diesel generators that produce toxic fumes
---
By Jessie Forand
WASHINGTON — To better help first responders take action and help survivors of disaster scenes, the U.S.  Department of Homeland Security's Science and Technology Directorate (DHS S&T) is reevaluating how relief can be delivered.
DHS S&T, in collaboration with the U.S. Department of Energy, the U.S. Army Corps of Engineers, the U.S. Army's Ground Vehicle Systems Center and Cummins Inc., is funding the design and creation of H2Rescue, a new emergency vehicle.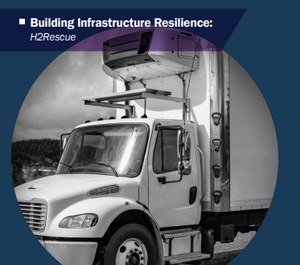 A DHS S&T announcement released this week indicated that the vehicle is carbonless and fully powered by a hydrogen fuel cell, eliminating the need for diesel generators at disaster sites. 
Hydrogen cells' technology has existed since the 1830s, according to a press release from DHS, but "has since evolved well beyond its Victorian roots," noting that the technology can generate at least 90KW of exportable power; by comparison, a whole-house backup generator typically produces 10-20KW. 
"Imagine a hydrogen powered temporary shelter operating fully without noise, exhaust, or emissions. In addition, the potential exists to capture both heat and water to further support the operation," said Ron Langhelm, program manager of DHS S&T's Office of Mission & Capability Support.
H2Rescue can serve as a lifeline between first responders and the community they're serving when chaos hits, according to DHS, by carrying supplies and generating useable external power. The new rescue vehicle will be able to "pull up to buildings or a field operation and get required systems up and running," with "nothing but water vapor coming out of its tailpipe."
The H2Rescue can also power a mobile command center that can easily be relocated. 
"This project is incorporating the need to address climate change in a very proactive way," Langhelm said.
It also furthers the work of S&T and the Dept. of Energy, which, along with other partners, are working to address climate change "as a fundamental driver of design."
The U.S. Naval Research Lab will work to connect the U.S. Department of Defense (DoD) with stakeholders in the project, according to the DHS' website.

Request product info from top EMS Specialty Vehicles companies
Thank You!