How to find and hire EMS all-stars with a talent acquisition system
The right system can help agencies discern the right candidate for the job and accelerate time-to-hire before they get away
---
Sponsored by Medline
By Laura Neitzel for EMS1 BrandFocus
Not everyone is cut out for a career in EMS. It's a profession that is physically demanding and often emotionally draining. Depending on the type of agency, it can involve long hours, fewer benefits and pay below that of other, safer professions.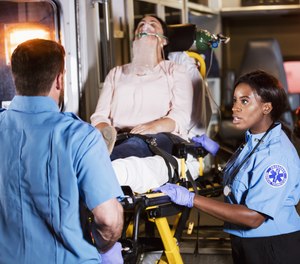 Now the COVID-19 pandemic is putting added pressures on an already-strained system and adding personal concerns as EMS workers worry about taking the virus home to their families.
But from adversity, heroes rise. For all the struggles, there are those who have a passion for the job. They love the camaraderie, have the capacity to work through the physical and mental challenges, and genuinely love helping people and saving lives.
Those are the people EMS agencies want to find and need to keep.
But, according to the 2020 EMS Trend Report, produced by EMS1 in association with Fitch & Associates, the industry is at a crossroads. There is still a strong need for passionate and qualified EMS providers, but there also is decreasing satisfaction within the industry. The study found the number of respondents saying they would recommend EMS as a career for their children or other young people dropped from 88% in 2018 to 61% in 2020.
"Recruiting and retention continues to be a major issue for non-fire-based EMS services and systems. Recruiting and retention tends to be a vicious circle as it takes 3-4 months to advertise, recruit, induct and clear a new employee to operate on the street, and can take just one day to lose an employee. This means organizations are always on the back foot when it comes to having the appropriate numbers of staff and are always having to recruit." – 2020 EMS Trend Report
Retaining valued EMS workers and hiring qualified and passionate candidates is increasingly important if EMS agencies are to continue to meet the needs of their communities in an ever more challenging environment. But a chronic shortage of people, time and resources in EMS makes it difficult to always identify and hire ideal candidates before they get snapped up by the competition.
A talent acquisition system like OnShift Employ can bring efficiencies to the process to reduce time-to-hire and make sure open positions are filled with the right people.
By EMS for EMS
Greg Lawton, executive vice president of OnShift, left the private EMS industry after 30 years to devote his full attention to helping EMS organizations build their talent pipeline, improve their hiring practices and retain and engage valuable employees. The result of his efforts – OnShift Employ – applies best practices and efficiencies that help agencies manage the hiring process from recruiting to onboarding.
One of the most appreciated features of OnShift Employ is that the system can be customized to the agency's hiring process and workflow, but with built-in efficiencies that make it easier and faster.
Filling the talent pipeline
Finding the right candidate starts with casting a wide net. OnShift Employ allows agencies to easily create and post openings to hundreds of job boards at once. The software optimizes the postings to get broad coverage in the agency's target market. It also links an open position to social media, which helps the agency get noticed when they post a job online.
"We don't have a problem filling a talent pipeline," said Lawton. "OnShift Employ does that very, very well."
Before a candidate completes an employment application, OnShift Employ sends that person through an online qualifications screening. This helps narrow the talent pipeline to only qualified candidates by screening out those who do not meet minimum requirements, such as experience or education.
When a candidate makes it past the qualifications screening, the software next offers a behavioral-based assessment to find a match between the applicant and a vast number of EMS job types, ranging from field clinicians to dispatchers to billing and accounts. By focusing on the candidate's values, personality and motivational characteristics, the behavioral assessment tool ensures that the candidate has not only the skills for the position but also the temperament for the role.
Getting better interviews
Because applicants are three times more likely to respond to a text than they are to an email, OnShift Employ uses texts to engage with candidates and to schedule interviews, minimizing no-shows and reducing the time between when they apply and when they accept an offer.
To ensure that hiring practices are fair and that agencies are doing their proper due diligence, OnShift Employ assists with documenting and scoring interviews so agencies can make an apples-to-apples comparison of qualified candidates. OnShift Employ also helps agencies structure interviews that ask questions that elicit deeper insights and score a candidate's qualifications according to measurable criteria.
Streamlining the onboarding process
When a candidate is offered a position, there is plenty more work to be done, from doing a background check to having the candidate accept the offer letter to making sure they are enrolled in the payroll system. OnShift Employ makes the onboarding process simple for both the employer and the candidate by streamlining paper processes and integrating with HR and payroll systems so information flows through the entire process.
"A whole array of onboarding forms can be built through this system. That includes electronic signatures that allow EMS organizations to, especially in COVID, virtually hire people with a minimum amount of face-to-face interaction," said Lawton. "It also helps get people in the door quickly, because the system is intuitive and walks the candidate right through the process."
Signing on and showing up
Speeding up the process gives agencies a much greater chance of being able to hire the right person and making sure they show up on the first day.
If an agency can reduce the time from when a candidate completes the application to the time they are interviewed to no more than three days, they have a 75% chance of landing an "A player," says Lawton. If they allow that candidate to go for 10 days to two weeks, that drops to a 25% chance.
When it comes to showing up on the first day, a lot of agencies are in the 20% range of no-shows, says Lawton. When it's done right and somebody is hired within that 10-day to two-week range, it goes down to 5%, he adds.
OnShift strives to help agencies get candidates from the application and screening process to the interview process in three days or less – and through the entire hiring process in 10 days to two weeks.
Filling vacancies and building a workforce for the future
Now more than ever is the time for EMS agencies to look ahead and build the workforce that will get the industry through these trying times. To hire top talent before someone else does, EMS agencies should look at implementing a talent acquisition system like OnShift Employ.
"There are people that we can find – if we do our homework and if we hire correctly – who will embrace and enjoy the hours, the camaraderie and helping people in the way that I did when I started in EMS back in the '70s," said Lawton. "We have to find those people, we have to hire those people, we have to develop those people, and we have to retain those people. They are the future of the EMS industry."
To learn more about the state of the EMS industry and strategies to help solve the recruiting challenge,  sign up to attend the webinar, "The state of the workforce in EMS and strategies for retaining and recruiting top talent," live on August 25 or on demand.
Read next: Public safety recruitment: A job for everyone

Request information from Medline
Thank You!