Incident Review: Firefighters, medics rescue toddler at the Cincinnati Zoo
Here's a fire and EMS look at how personnel from the Cincinnati Fire Department handled the rescue call for a 3-year-old trapped in a gorilla exhibit
---
By Robert Rielage
Saturday, May 28 was like most other days for Cincinnati Fire's Unit 2 with a steady stream of routine fire and EMS calls when Engine 32 and Medic 9 were dispatched for a sick person at the Cincinnati Zoo and Botanical Gardens about 3:35 p.m.
After attending their patient and determining it would be a non-transport call, the crews were alerted at 3:54 p.m. for another run at the zoo.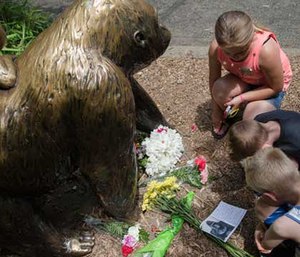 This one involved a 3-year-old who had crawled through a barrier and fallen into the moat at the zoo's Gorilla World, the home for five adult Western lowland silverback gorillas and their three young offspring. And it would draw international media attention.
The Gorilla World complex, completed in 1978, was designed for easy viewing and was protected by several barriers including a 36-inch-high pedestrian barrier, 4 to 6 feet of ground covered with heavy brush and vegetation and a fast-flowing 3-foot-wide stream that emptied into an approximately 12-foot-wide by 15-foot-deep moat with steep concrete sides.
Access points to the enclosure for zoo personnel are behind the scene on the far side of the moat. Some 40 million visitors had passed through the Gorilla World exhibit without incident.
Almost immediately, Cincinnati 911 Dispatch Center began receiving 911 calls reporting that a young boy had fallen into the gorilla enclosure. Some of the callers were frantic and provided very few details; both a civilian and a zoo employee provided several essential details to dispatch.
The dispatch center updated the crews on scene and then toned out an entrapment compliment consisting of Ladder 32, Heavy Rescue 14, Medic 46, an EMS supervisor and a district chief.
Having a plan
First-due fire crews to Cincinnati Zoo and Botanical Gardens had a pre-plan for the various locations within the complex and were familiar with the access points via employee short cuts and walkways between enclosures. Their frequent visits to these areas also allowed them to meet the principal employees responsible for safety and security.
Another advantage was their direct radio contact with zoo personnel who could quickly give updates to the options available, specifically in this rescue situation.
Arriving within a few minutes at the Gorilla World complex, the crews from Engine 32 and Medic 9, under the supervision of Capt. Ken Lemaster, witnessed Harambe, a 425-pound, 17-year-old male gorilla, violently dragging the young boy through the water in the moat and at times throwing him to the side.
Several times the boy's head went under water and struck the concrete bottom and sides. The child remained conscious throughout the approximately 10 minutes from his fall into the moat until the the Cincinnati Zoo's Dangerous Animal Response Team neutralized the gorilla with a single shot from a long rifle.
At the time the shot was fired, the gorilla was holding the young boy between his legs.
Calm response 
Once the gorilla was put down, two firefighters immediately entered the gorilla enclosure with zoo employees and retrieved the child. He was then removed to a safe area and assessed for any trauma injuries by the on-scene paramedics.
The child remained conscious and alert while being treated and transported to Cincinnati Children's Hospital about a half mile from the zoo. He was treated and released from the hospital later that evening.
While speaking to the media, Cincinnati Zoo Director Thane Maynard said that the zoo's Dangerous Animal Response Team and the quick work of the responders (Engine 32 and Medic 9) saved the child's life. "The right choice (to shoot) was made, though it was a difficult choice," he said at the press conference.
You can listen to the callers talk to the 911 operators and hear the radio traffic between Cincinnati's fire dispatch and Capt. Lemaster, whose calm, experienced demeanor throughout this incident helped bring it to a prompt and successful conclusion.
The bottom line for all of us is to remember that any emergency response can take a sudden and often dangerous turn of events for which we must be prepared to mitigate and successfully handle.
Cincinnati's Assistant Chief for Operations Roy Winston, summed it up by saying, "As first responders, it's important for us to stay calm and rely on our training. By nature, an emergency is an atypical situation, and it's understandable that bystanders' emotions might be heightened.
"In order for us to ensure a patient's safety, we have to push all that aside and focus on how to best help the person in need. The companies responding to the zoo did just that, and it helped ensure an efficient and successful rescue."
About the author
Chief Robert R. Rielage, CFO, EFO, FIFireE, is the former Ohio fire marshal and has been a chief officer in several departments for more than 30 years. A graduate of the Kennedy School's Program for Senior Executives in State and Local Government at Harvard University, Rielage holds a master's degree in public administration from Norwich University and is a past-president of the Institution of Fire Engineers — USA Branch. Chief Rielage can be reached at Robert.Rielage@FireRescue1.com.

Request product info from top Rescue Gear and Tools companies
Thank You!