Pa. county to get $16.9 million dispatch system upgrade
The county's 911 coordinator said the "questionable" reliability of the current system "is a safety risk to our responders"
---
Mark Pesto
The Tribune-Democrat, Johnstown, Pa.
EBENSBURG, Pa. — The Cambria County Board of Commissioners on Thursday voted unanimously to approve a $16.9 million contract for upgrades to the county's public safety radio system, a move designed to improve emergency responders' ability to reliably communicate with each other and with 911 dispatchers.
Robbin Melnyk, Cambria County's 911 coordinator, said during Thursday's meeting of the Board of Commissioners that the "questionable" reliability of the county's existing public radio system "is a safety risk to our responders." The system's equipment has a track record of failure during heavy rainstorms and other poor weather, she added.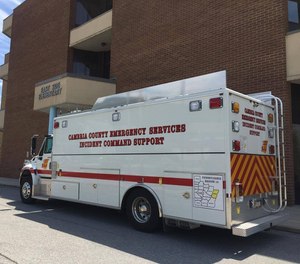 "During severe weather, (there is) a known issue of certain towers not being able to communicate with emergency responders," she said. "The equipment that we're using to connect between two towers is obsolete. We've Band-Aided it as long as we could."
Melnyk said after the meeting that the problem is not only because of outdated equipment, but also because of spotty radio tower coverage.
'Very difficult and very dangerous'
Several emergency responders from throughout the county, members of a committee that has been working for the past two years to plan upgrades to the county's radio system, attended Thursday's meeting to discuss problems they've had with the current system.
Chief Joe LaMantia, of the Nanty Glo Fire Department, recalled an incident in the summer of 2016 in which his department was dispatched during a rainstorm to a house fire in Blacklick Township. Just as he and his deputy arrived at the scene, he said, the radio system went down.
"We had zero communications on scene for about 18 minutes," he said, "which proved very difficult and very dangerous for us. We had no communications with our crews in the interior of the building. We had to rely on staging people through the house and yelling up and down the steps for orders and commands."
Chief Don Hess, of the Upper Yoder Township Police Department, told a similar story: "I personally had an incident where I had to call for backup, and I literally had to run to a landline to place a phone call and ask to have another car sent to my location. We know there are certain locations where we have zero coverage with the portable radio. We won't even try."
"It would be very difficult to find some emergency responder in the county that doesn't have an issue with the current radio system that affects them – that jeopardizes their safety," Melnyk said.
LaMantia is also a county 911 supervisor, and he said that there are "many times" when dispatchers are trying to contact firefighters or police officers without realizing that the radio system is down.
In addition to Hess and LaMantia, the committee consisted of Chief Bob Statler, of the Johnstown Fire Department; Deputy Chief Bob Heffelfinger, of the Richland Township Fire Department; Eric Miller, manager of Forest Hills Area EMS and a Johnstown firefighter; Dan Penatzer, Ebensburg Borough manager and a Summerhill firefighter; Dan Blackburn, operations supervisor for the county's 911 center; and Matt Barczak, a Hope Fire Company of Northern Cambria firefighter.
"These are not yes-people," Melnyk said. "They were selected because they were very vocal that something needed to be done. … These are the people that went into the commissioners' office years ago and said, 'You've got to do something with this.'"
'A known issue for some time'
Melnyk said that there are radio coverage problems throughout the northern part of the county. She said Susquehanna Township, parts of Chest Township, parts of Patton Borough and the stretch of Route 53 between Ashville and Cresson are trouble spots, as are the Nanty Glo area and parts of Adams Township. Part of the problem is the county's hilly terrain, which can block radio signals.
"It's been a known issue for some time that the 911 system has some dead spots," said Barczak, of Northern Cambria. "Our fire department experiences it. Our police, our EMS experience it. … We have traffic on (U.S. Route) 219 north, toward Indiana County, Clearfield County, and because of the terrain we have zero communications on vehicle accidents and fires. A lot of times, we have to use our radios on talk-around, which is nothing more than a fancy walkie-talkie."
It's not just a rural problem, though. Johnstown's fire chief said that there are "dead spots" in the city, too.
"We've had multiple incidents in the past when we've been communicating with dispatch on our cellphones," Statler said. "It sounds funny that there would be radio issues in the city, but there is."
The $16,910,409.48 upgrade contract approved on Thursday is with Motorola Solutions Inc. The commissioners also approved a $875,880 contract with Mission Critical Partners LLC for project management. Melnyk said that, under the contract, Mission Critical Partners will "provide professional oversight to ensure that the project is completed to the county's expectations."
Melnyk said the committee of emergency responders unanimously supported the contracts with Motorola and Mission Critical Partners: "It's not just one voice saying, 'This is the way we need to go.' These are the voices that are driving what the county's about to do with this project."
'A footprint throughout the county'
The county currently has 19 towers in its radio system. The upgrade project will reduce that number to 16, Melnyk said – but that decrease "actually gives us better coverage," she added, "because we're positioning these towers in the area where they're needed, instead of reacting to a complaint of not having coverage and then putting up a tower where think it would be."
"Some of those towers are new construction," Melnyk said. "Some of them are using existing towers that are part of our current system, and some are going to be leases with tower owners to incorporate those towers as part of our system. A footprint throughout the county is what it's going to give us."
The project will also include a new microwave system, which Melnyk said "is what connects us from tower to tower – the big dishes that you see on the towers," as well as new communications equipment at the 911 center and new radios for emergency responders.
The county's 911 system first went online in 1992. In 2007, a new radio upgrade was designed and implemented. The upcoming upgrades are scheduled to go live in 2022, barring any unexpected delays, and include a 15-year maintenance plan, Melnyk said.
"At the end of those 15 years, that doesn't mean we can't continue upgrades, but the current system is designed for 15 years out," she noted.
The project specifications call for 100% mobile coverage and at least 95% portable coverage county-wide, which Melnyk called "the public safety norm."
"There's portable coverage and there's mobile coverage," she explained. "Mobile coverage is when you're in your police car, and you're using a 35-watt radio to transmit with the bigger antenna that's on the back of the car. … Portables – lower wattage, smaller antenna, smaller devices – we want those smaller devices to be able to talk in 95% of the county."
The current system will not have to be offlined at any point during the upgrade project, Melnyk said.
Clerk: No tax increase planned
Also on Thursday, the commissioners approved an ordinance considering a proposal from the investment banking firm Boenning & Scattergood Inc. for the purchase of the county's General Obligation Notes, Series A of 2020, in an estimated aggregate not-to-exceed principal amount of $32 million.
Michael Gelles, the county's chief clerk, said after Thursday's meeting that that move will provide the county with up to $20 million in new money, the bulk of which would fund the radio system upgrades.
"One of the directions we were given by the commissioners was (that) they wanted to structure this in a way that would not require a tax increase," Gelles said. "We were able to do that with some of the refinancing."
Joseph Muscatello, a managing director for Boenning & Scattergood, said during Thursday's meeting that, while the not-to-exceed amount in the ordinance is $32 million, the bond issue "is actually going to be about $29 million, part of it to fund the project and part of it to refinance some of the 2014 bonds."
"The whole structure, when put together, will not increase the county's current debt service," Muscatello added. "We'll keep the debt service payment the same."
Gelles said the county's millage rate for debt service will remain at four mills through the length of the bonds. Those debt service payments will be extended for six years longer than they otherwise would have, he said.
"There's no increase down the road," Gelles said.
———
©2019 The Tribune-Democrat (Johnstown, Pa.)
McClatchy-Tribune News Service

Request product info from top EMS Radios companies
Thank You!