PRESS RELEASE
Three critical areas to watch in EMS
---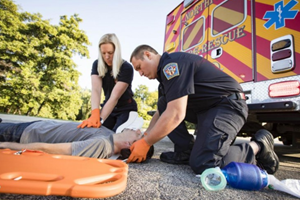 NORTHFIELD, Ill., — Of the more than 13 million calls in Firehouse Magazine's yearly survey of fire departments and EMS agencies nearly nine million needed emergency medical services. The need for EMS is great. We're not just responding to car accidents. We're in post-acute facilities. We're collaborating with hospitals. We're seeing change. Though they affect the healthcare system as a whole, these three topics constitute areas of growing concern for our nation's EMS systems. Responding to these challenges requires innovation and a willingness to expand outside of the traditional role EMS has played in public health and safety.
1. An Aging Population
Since the early days of EMS, increasing call volume has been a source of pain for systems struggling to keep up with requests for service. Though not the only factor, the aging population is perhaps the largest single contributor to increasing call volume.  That's because the number of baby boomers continues to quite frankly, boom. Census data shows the jump in the number of residents age 65 and older, has increased from 35 million in 2000, to more than 49 million in 2016.
EMS agencies must continue to think long-term to develop strategies that allow them to continue to meet the needs of their communities. For too long, many agencies have relied solely on increasing the amount of personnel and equipment as the only solution to the problem. As an alternative, Community Paramedicine programs have shown promise, providing proactive care and education to patients that are either identified as high-risk or heavy users of the 911 system.
2. The Opioid Epidemic
The impact of the opioid epidemic is far reaching, both in terms of geography and the range of individuals affected. Opiate addiction affects individuals of all backgrounds and walks of life. Having witnessed many overdoses, some of which were fatal, I was always struck by the devastation they wrought on the patients and families involved. While responding to these types of calls has always been a part of EMS, their occurrence has never been more widespread.
In addition to treating acute overdoses, many EMS systems have assumed a larger role in educating the public on the resources available to those who find themselves affected by addiction. While the debate continues as to the cause of the present situation, the solutions eventually implemented will likely impact providers across the healthcare continuum.
3. Emergency Preparedness
Though guided by the Federal Emergency Management Agency or FEMA, state and local authorities are responsible for preparing for and responding to natural or man-made disasters within their jurisdictions.  This degree of planning requires that EMS interact with police, fire, and other public safety officials to ensure they are ready to respond to a wide-range of incidents.
From hurricanes to active shooter/hostile events (ASHE), as the demands placed on EMS responders become more complex; their skill set must expand to ensure an adequate response. Once only common among military personnel, tactical medical care is one example of a technique now considered by many experts to be a necessity among civilian EMS responders. Working with the right vendor to make sure you're prepared for emergencies big or small is critical in ensuring you have the supplies when you need them so you plan is ready and adaptable.

Request more info from Medline
Thank You!