PRESS RELEASE
Ferno is Named 2010 International Business Awards Large Company of the Year
---
use if there is a picture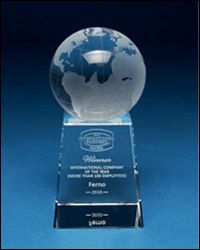 end picture
Ferno was named Large Company of the Year at the Cincinnati Business Courier's 2010 International Business Awards. Ferno products were all over the TV and the globe this year. As the exclusive supplier of EMS transport equipment for the 2010 Winter Olympics in Vancouver and the product of choice at the World Cup in South Africa millions of people saw Ferno products. But that is just the tip of the iceberg for Ferno's international market. A big factor in Ferno's international success is its export strategy. Working with established business entities in each region is a key to success in that region. When markets are down in the United States it is important to focus on market's that are growing. Ferno reached 25 percent market share in France this year. According to Gary Hiles, Vice President of Ferno's International Division, "this award and the continued growth at Ferno would not be possible without the dedicated staff. Whether its customer service, the factory personnel , or the sales team, everyone really cares about the customer". Canada and Australia also continue to be good markets for Ferno product. Whether Ferno is outfitting personal Cadillac Escalade ambulances for the King of Jordan or 1,100 ambulances for the ministry of health in Egypt, they continue to provide top quality products that meet the requirements from a medical standpoint as well as government regulations.
About Ferno
Ferno is the leader in providing patient handling solutions for EMS, including ambulance cots, stretchers, backboards, stair chairs, and a full range of emergency response tools offering the most complete line of patient handling equipment to serve all your patient transport needs.
For more information visit www.ferno.com.

Request more info from Ferno
Thank You!