PRESS RELEASE
Dick Ferneau Paid EMS Service of the Year Winner Honored During EMS World Expo
---
Las Vegas  – Ferno, the global leader in pre-hospital emergency care solutions, is pleased to announce the Richmond Ambulance Authority in Richmond, VA is this year's recipient of the Dick Ferneau Paid EMS Service of the Year Award.  The award is administered by NAEMT and was presented to RAA as part of the National EMS Awards of Excellence Presentation during the EMS World Expo in Las Vegas.
"To be identified as the Dick Ferneau Paid Service of the Year is not just rewarding for this year, we feel this is like a lifetime achievement award, because we constantly strive to achieve excellence," says Chip Decker, chief executive officer of RAA. "To receive this isn't just about the year or the decade of work we've put in to be as good as we can be, it's also about showing our efforts to have a workforce that's happy, safe, engaged and clinically focused."
The Dick Ferneau Paid EMS Service of the Year Award pays tribute to Ferno's co-founder, Dick Ferneau.  Ferneau, who passed away in 2009, was a true pioneer of the EMS industry.  From the time he was a teenager and until his death at the age of 90, Dick created numerous designs and concepts, many of which still impact the EMS industry today.  He listened endlessly to the evolving needs of caregivers and first responders, and worked feverishly to develop innovations to help make their jobs safer, easier and more efficient.  Dick was also a compassionate, servant leader who, alongside Ferno co-founder and chairman, El Bourgraf, made many contributions to the local and global community as Ferno continued to expand its international footprint.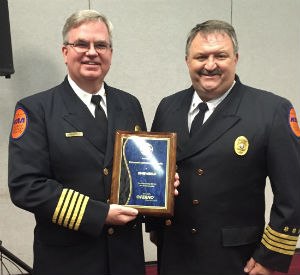 The Dick Ferneau Paid EMS Service of the Year Award  honors agencies that exemplify Dick's spirit of innovation and dedication to continuous improvement.   Agencies are evaluated in the following areas: EMS education and training, innovations in pre-hospital care and protocol, community involvement, EMS system/program upgrades, worker safety, injury and illness prevention, and public education projects.
RAA is a highly innovative agency with many programs that benefit both patients and employees alike.  For example, RAA uses mechanical CPR to provide consistent and high-quality chest compressions and therapeutic hypothermia during resuscitation procedures, which cools the body to preserve brain function.  It also successfully implemented a "Rider Alert" motorcycle safety program that places identity cards inside riders' helmets. 
"We are constantly looking to innovate," says RAA Chief Operating Officer Rob Lawrence, "whether it's participating in things like the freshly thawed plasma trial or cultivating a culture of safety in our agency. Safety is first and foremost, whether it's vehicle training to remain accident free or our beneficial relationship with the police department. We see this culture as an innovation in and of itself, because this way we don't have to reeducate people to be able to obtain this culture. We embrace this culture."
Last year, RAA responded to 64,000 calls and is one of the busiest services in the United States per capita with an average response time of five minutes and 45 seconds. 
About Ferno: 
Ferno is the global leader in pre-hospital emergency care solutions and serves EMS, fire rescue, mortuary, industrial safety and police.  Ferno exports to more than 150 countries and has partnered with EMS, safety and regulatory agencies, and customers globally to create a new vision for delivery of emergency care.  Ferno employs a dedicated team of customer-focused industry experts who are ready to share that vision with you.  For more information, visit www.FernoEMS.com or call 877-733-0911.

Request more info from Ferno
Thank You!