Spotlight: Life-Assist, emergency medical supplies for the first responder
---
Company Name: Life-Assist Inc.
Headquarters: Rancho Cordova, CA
Signature Products: Emergency Supplies
Website: https://www.life-assist.com/
1. Where did your company name originate from?
The founder of Life-Assist, Stan Davis Sr., met with Dick Fife, who had started a company called Med-Assist in Salt Lake City, Utah. Stan wanted a name that was similar to Med-Assist, as he liked the concept the name conveyed. Stan ultimately decided on the name Life-Assist because life was really the end result of EMS work.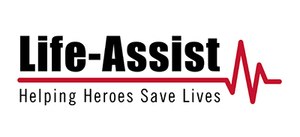 2. What was the inspiration behind starting your company?
Founder Stan Davis had worked with the EMS industry, training them on some of the earliest heart monitors. He was inspired by several factors during these early years in sales. One was that he was traveling so much, he wanted to be close to home again and California was where he grew up. The second factor was that he wasn't enjoying working for the company he was employed by; he didn't feel as though they were completely ethical or honest. The third was he really enjoyed working with first responders. He saw that there were very few places in which they could purchase products. Those three factors, combined with his early meetings with Dick Fife from Med-Assist, inspired Stan to take the plunge. He and Judy sold their home in Cypress, Texas, and moved with their four children, three dogs, two horses and a cat to Sacramento, California. Life-Assist was established in August of 1977.
3. What is your signature product and how does it work?
Life-Assist is a distributor of emergency supplies, and we stock over 4,000 items. Each of the products we carry has been vetted through vigorous in-house testing and with key clients who are willing to tell us what they honestly think of the product.
4. Why do you believe your products are essential to your vertical (Police, Fire, EMS, Corrections, Government) community?
Our vast range of products cover all the demands of medical first response. They have been specially selected for quality and have proven themselves viable and rugged in emergency situations.
5. What has been the biggest challenge your company has faced?
Like all companies, Life-Assist has overcome obstacles throughout the years. The biggest challenge came in the first year, 1977. Had it not been for a state bid that we were awarded, Life-Assist might not have made it. Yet, here we are, 42 years later.
Another challenge Life-Assist has faced, is remaining personal in a technologically advancing world. Although many companies have replaced people with automation, we believe our customers are best served through the value our people and technology provide to them. For instance, Life-Assist has a robust online ordering platform, as well as a large network of real people dedicated to direct customer support –including Customer Relations Advisors strategically placed throughout the US. We believe our customers' time is valuable and if they call us during our working hours, we should pick up the phone. We don't like the automated phone tree when we must use it and, therefore, we don't expect our customers will either. We want to provide the service, along with the tools and support to help those in first response do their job. This will continue to be a challenge in a rapidly changing world.
6. What makes your company unique?
What sets us apart is the care and attention we give to our customers. From the very beginning, Stan believed that customers needed to be dealt with fairly and honestly, especially in the EMS industry. The people that work in EMS dedicate their time to saving others. They deserve to be taken care of as well and understand how important they are to the people they serve. Therefore, at Life-Assist, we establish relationships with customers built on trust and make customer care our top priority. Our knowledgeable and friendly Customer Relation Advisors always answer the phone, with no computer prompts! They help our customers find the best products at competitive prices and make sure the products arrive quickly with same-day shipping.
7. What do your customers like best about you and your products?
We have a testimonial page on our website, which allows our customers to leave comments about the products and services they receive from Life-Assist (https://www.life-assist.com/Info/Testimonials). Through this and their direct feedback, we understand that our policy of "customers first" works. The number one statement our customers make is how truly appreciative they are of the individual care they receive.
8. What is the most rewarding part of serving the first responder/local government community?
They are amazing! Most people have a story of how EMS providers helped them in a time of crisis. First responders save lives.
9. Do you support any charitable organizations within public safety/community? Tell us more.
Life-Assist has always been committed to giving back to our community and the EMS industry. Along with our employee match program, in which we match our individual employee's contributions to charities of their choice, we also support charities at the corporate level. Two of these charities are the Make-a-Wish foundation, which helps terminally ill children make their wishes come true, and the Muddy Angels, which provide relief to families who have lost an EMS worker in the line of duty.
10. Is there any fun fact or trivia that you'd like to share with our users about you or your company?
Our average employee tenure is over 10 years. This brings stability and assurance to our customers and brand. It also shows that we love our people!
11. What's next for your company? Any upcoming new projects or initiatives?
We are very excited about bringing on a new distribution site in Kansas this year. With two locations to ship from, we can service all our customers with 2-3-day delivery.