75 paramedic students complete all-day field ops training
400 instructors, volunteers and patient actors, along with with 26 ambulances and two helicopters, helped paramedic students complete 70 different scenarios
---
By Angela Lingg
The Hutchinson News
HUTCHINSON, Kan. — Amanda Trammel fell from the top of the racetrack at the Kansas State Fairgrounds and died. In fact, she died multiple times throughout the day.
Trammel was a volunteer patient for the Hutchinson Community College Paramedic Field Operations on Tuesday and today. Other than sticky, fake blood on her head, she was unharmed during the mock exercises that were set up for paramedic students.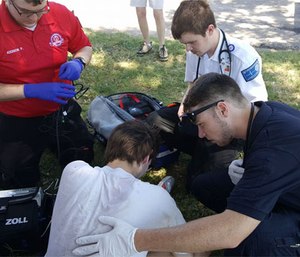 Her specific scenario was designed to teach paramedic students how to respond when they know there is little chance the patient will live.
"They did great," Trammel said. "They tried to revive me, so they didn't want to give up."
More than 75 paramedic students from Barton Community College, Cowley Community College, Garden City Community College, Hutchinson Community College, Missouri Southern State University and the University of Missouri Kansas City participated in the field ops.
They were divided into teams of three students from different schools, along with an ambulance driver and a seasoned paramedic who acted as their mentor. The mentors helped along the way and made sure the students didn't accidentally harm any volunteers.
"They will make sure they don't make mistakes. They're guiding them a little bit: Think about this, or this question. Gentle guidance," said Mark Smith, the operations chief and an EMT instructor for HCC.
Tina Peevyhouse, the event planning chief, helped arrange the teams of students and mentors.
"It's their opportunity to get experience without having any risk," Peevyhouse said. "It's just like being a real paramedic without any risks to the patients. Nobody's going to die."
The patients were made up of volunteers and dummies. There were 70 different scenarios, including gunshot wounds, stroke patients, drowning patients, patients having anxiety attacks at the top of the slide, and even one volunteer who had a very real-looking fishhook stuck in her forehead.
"They'll get, hopefully, a whole variety of patients, a whole variety of problems, and they'll get to make all kinds of different decisions," said Kent Sallee, the incident commander for the field ops. "That's why they want to be paramedics — to do what they're doing today. They have that desire to help people and an environment where they get to make quick decisions, and life-or-death stuff."
Coreen Larson played the role of a woman who had taken a dare to jump off the bleachers at the Bretz Law Arena at the fairgrounds. The result was an open wound and a protruding bone in her left leg. Before she began, she was prepped for her role.
"They tell you what signs you're supposed to be presenting," Larson said. "They tell you things that you're supposed to be allergic to, your vitals, basically the whole scene scenario. Just kind of role play."
The students run through the exercises like they are real. They get dispatched out, ride to a scene in an ambulance, assess and treat the patients, deliver them to a set-up emergency room, give a report to the receiving nurse, and then restock their ambulance.
"It's an amazing experience," said Trammel, who had been through the field ops as a student a few years ago.
"Truly just seeing a patient for the first time and running a call for yourself, it's really hard. It's nerve-racking, and to be able to do it in this environment it's just an awesome experience."
Not only was it a training event for paramedic students, but Wichita State University nurses got to join in and run a set-up emergency room in the Encampment Building.
The nursing students got experience in receiving patients, giving them immediate treatment, and even informing family members when a loved one didn't make it.
Even the dispatchers were getting valuable experience in handling a large load of calls at once. The calls were not made on the local dispatch frequency but rather on a frequency reserved for special cases.
"It's actually designed for emergency situations or natural disasters," said Sallee. "It gives those people a chance to practice with them, because in a natural disaster you don't want to clog up the local frequencies.
"You want to have your own so you can talk to emergency personnel, and so we've got our own set-up."
More than 400 participants made the event happen, along with 26 ambulances and even two helicopters from LifeTeam and EagleMed that were made available for the exercise.
———
©2016 The Hutchinson News

Request product info from top Patient Immobilization & Splints companies
Thank You!