5 ways to empower your EMS employees
Create a culture of recognition and invest in the proper equipment to support your EMS personnel
---
Sponsored by Stryker
By Shawna Renga for EMS1 BrandFocus
Employees that feel empowered are more engaged at work, have greater career longevity and experience greater job satisfaction than individuals who feel marginalized by their employers.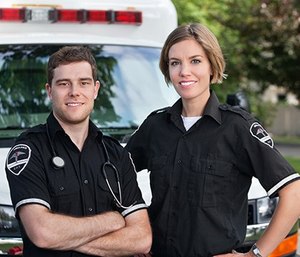 Building the next generation of EMS professionals requires strategic action from today's industry leaders. By focusing on policies and practices that empower employees, EMS managers can play a key role in the development of their employees.
Here are five strategies for EMS managers who want to empower their employees.
Be Loud and Proud with Employee Recognition
Empowered employees feel recognized and appreciated by their managers. All too often, employer feedback is focused on the shortcomings of the employee or areas for improvement. By creating a "strengths-based" culture, employers can support an environment where EMS personnel are more likely to stay engaged and be satisfied with the work that they do.
Employees who feel that their managers focus on strengths are far more likely to be engaged, focused on improvement and motivated to deliver high-quality work. [1] Recognition that is highly personalized tends to be more effective than general or group recognition, and face-to-face delivery of the recognition makes it even more impactful.
Providing specific feedback about a job well done, focusing on strengths over weaknesses and delivering honest, in-person feedback supports employees in the work that they do and empowers them to strive to be better.
Create a Culture of Learning
Providing in-house training to employees is nothing new in EMS culture. However, the training provided is often routine and simply rehashes previously discussed topics. By focusing on current research and topics outside of traditional EMS subjects, employers can encourage a culture of creativity and empower their employees to continually seek out new knowledge.
Topics focusing on provider mental health, new medical research and general workplace engagement can bring new life into employee training programs. Encouraging personnel to suggest or even take the lead on presenting topics that are relevant to them engages employees intellectually and shows that management is interested in supporting their growth.
Invest in State-of-the-Art Tools and Equipment
One of the most effective ways to empower employees is to invest in the tools and equipment they need to safely do their jobs.
Back, shoulder and knee injuries are common among EMS providers, many of whom are forced to leave the field following a work-related injury. Powered patient transport equipment can help reduce the risk of career-ending injury, as well as improve patient safety during lifts and moves.
Investing in high-quality tools and equipment shows that employers value their staff and are concerned for their career longevity. Long-term budgeting that includes adding up-to-date equipment helps ensure that employees have the tools they need to safely do their jobs for many years to come.
Believe in the Power of Sleep
More than half of EMS providers report experiencing symptoms of fatigue while on the job, further categorizing their mental and physical fatigue as "severe." [2] The dangerous effects of fatigue are well recognized, yet the EMS industry routinely supports shift schedules and working conditions that encourage fatigued providers to continue to work. [3]
EMS agencies can empower their employees by scheduling shifts to fight fatigue, promoting on-duty napping when appropriate and allowing providers to self-identify when fatigue becomes dangerous.
Shifts of 24 hours or greater are unfavorable when it comes to fatigue and adverse outcomes. [4] Changing scheduling practices to exclusively 8- or 12-hour shifts allows employees to get a full night's rest each day. In situations where longer shifts are necessary, or where crews must work overnight, on-duty napping should be not only allowed but promoted. The benefits of allowing tired workers to sleep, even for brief periods, can significantly mitigate the effects of fatigue.
It is also important to allow tired providers to self-identify when fatigue begins to impact their work so they can be given time to adequately rest. Creating a culture where employees are praised for self-identifying may help to prevent fatigue-related adverse events and empowers employees to speak up for their own well-being and the well-being of their patients.
Listen to Your People
EMS workers are often an outspoken and opinionated group of people. Speaking up, however, is not synonymous with being heard, and employees can be left feeling like no one is listening. EMS managers seeking to empower their employees should strive to truly listen to their people, as the benefits of a strong "listener" relationship impacts many areas of EMS work.
When employees speak up about safety issues and employers listen and respond, future incidents of work-related injuries decrease in both frequency and severity. [5] In a study of 20,000 employees worldwide, the single largest predictor of commitment and engagement among workers was their belief that their managers respected their opinions. [6] Employees who feel that their supervisors listen to them are also more open and receptive to new ideas and change in the workplace. [7]
Like the recognition mentioned above, employee feedback is best solicited face-to-face. Managers should strive to cultivate an environment where feedback can be given freely during regular, casual conversations between employees and supervisors. Ideas that are presented should be given weight and consideration, with follow-up conversations to ensure that the employee knows what, if anything, came of his or her feedback.
References
 Harter, Jim, and Amy Adkins. "Employees want a lot more from their managers." Gallup Business Journal (2015).
Patterson PD, Weaver MD, Frank RC, et al. Association between poor sleep, fatigue, and safety outcomes in emergency medical services providers. Prehosp Emerg Care. 2012;16(1):86–97.
Brown WE Jr, Dickison PD, Misselbeck WJ, et al. Longitudinal Emergency Medical Technician Attribute and Demographic Study (LEADS): An interim report. Prehosp Emerg Care. 2002;6(4):433–439.
Patterson PD, Runyon MS, Higgins JS, et al. Shorter versus longer shift duration to mitigate fatigue and fatigue related risks in Emergency Medical Services: A systematic review. Prehosp Emerg Care. Jan. 11, 2018.
Tucker, Sean, and Nick Turner. "Sometimes it hurts when supervisors don't listen: The antecedents and consequences of safety voice among young workers." Journal of occupational health psychology 20.1 (2015): 72.
Porath, Christine. "The leadership behavior that's most important to employees." Harvard Business Review. Retrieved October 11 (2015): 2016.
McFaull, Nicola. Listen to me: the relationship between an organisation's listening environment and employees' openness to change: a thesis presented in partial fulfilment of the requirements for the degree of Masters of Business Studies (Communication) at Massey University, Wellington, New Zealand. Diss. Massey University, 2016.
About the Author
Shawna Renga, AS, NREMT-P, currently works as an instructor for the United States Coast Guard Medical Support Services School in Petaluma, California, providing EMT training for helicopter rescue swimmers and Coast Guard corpsmen. She also works part-time for a private ambulance company and lives with her husband and two sons in Sausalito.

Request information from Stryker
Thank You!