3 benefits of investing in powered patient transport equipment
Power cots and loading systems simplify lifts, help protect providers from injuries and provide greater stability for patients
---
Sponsored by Stryker
By Shawna Renga for EMS1 BrandFocus
The National Standard Curriculum for EMTs suggests that a minimum of three hours of initial training be devoted to concepts surrounding safe lifting and moving of patients and equipment. This training typically covers proper body mechanics, grip placement, weight distribution and lifting techniques, and is a valuable part of initial EMT training.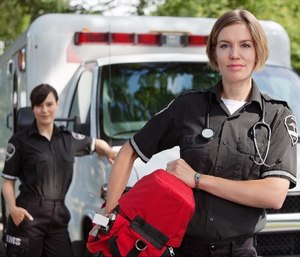 Many providers can likely recall the anxiety they felt during their first few attempts to load a cot carrying an actual patient into the back of an ambulance.
Operation of a traditional, manual cot requires an initial investment of time and training for new providers, as the ability to smoothly and safely maneuver a manual cot without jostling the patient or causing him or her to fear being dropped takes repetition and practice.
For those of smaller stature, it takes perhaps weeks or months of practice to feel confident lifting and loading the cot during patient care. Even experienced providers may feel some concern or anxiety when faced with a patient lift, especially those who have been injured on the job before.
1. Increase focus on patient care
An agency that invests in powered patient equipment makes the job of its providers easier and safer and improves the overall patient experience. While the concepts of safe lifting and proper body mechanics are an important aspect of EMS training and practice, upgrading to powered patient transport equipment allows providers to focus on proper patient care rather than worrying about the possibility of injury
Powered equipment is easy and intuitive to use, exchanging the coordination of levers and strategic lifting with the ease of pushing a button. Although powered equipment is heavier than traditional manual equipment because of the added mechanisms, the benefits to patients and providers are worth the extra weight.
For example, the Stryker Power-PRO XT ambulance cot weighing in at 125 pounds, is heavier than its manual counterpart, but EMS providers are not left to bear the additional weight. The powered cot mechanically lifts and lowers the device with the push of a button, moving the cot and occupant with minimal physical exertion.
2. Improve the patient experience
The battery-powered hydraulic lift system also improves the patient experience by smoothly raising and lowering the cot, thereby minimizing the risk of patient falls and the uncomfortable jarring movements that can occur with a manual cot. Also, the additional weight limit of a powered cot provides greater stability and support for bariatric patients.
When combined with a powered loading system, like Stryker's Power-LOAD cot fastener system, risk is further minimized as the cot can be loaded and unloaded with less exertion from the provider. Patients are securely and safely moved in and out of the ambulance and secured during transport with minimal risk for patient or provider injury.
3. Pay now or pay later
In 2015, U.S. employers reported over 3 million workplace injuries. Of these, just over half resulted in employees missing days of work, being placed on restrictive duty or transferring to a different job altogether. Work-related injuries are common in EMS, and about half the on-the-job injuries sustained by EMS providers occur while lifting and moving patients.
Workplace injury is extremely costly to employers and employees alike, particularly if the injury results in the provider being unable to work in the field. The financial cost of recruiting and training a new provider is significant, and it may take years to replace the on-the-job experience possessed by a long-time provider forced to leave the field due to injury.
Switching to powered equipment lowers the physical strain on EMS providers and decreases the risk of workplace injuries. Retooling a fleet with powered patient transport equipment requires a financial investment that may feel significant to some agencies, but the initial investment will likely result in significantly lower costs to the agency later on.
Support providers and patients
Investing in powered patient transport equipment can yield significant savings in the long term, as powered equipment dramatically decreases the repetitive stress and strain caused by the daily lifting and loading of patients with manual equipment.
Compared to lost-time injuries and workers compensation costs, powered cots and loading systems are a proactive investment. These tools are easy to use and provide greater stability and support for patients and enhanced safety during transport, as well as reduced risk of injury for EMS providers.
Shawna Renga, AS, NREMT-P, currently works as an instructor for the United States Coast Guard Medical Support Services School in Petaluma, California, providing EMT training for helicopter rescue swimmers and Coast Guard corpsmen. She also works part-time for a private ambulance company and lives with her husband and two sons in Sausalito.

Request information from Stryker
Thank You!