Elbeco Approaches Centennial Year With Continued Commitment to EMS
---
Reading, PA- For nearly a century, Elbeco has been a leading manufacturer of professional performance uniforms. As Elbeco reaches its 100th anniversary, the corporation remains dedicated to providing the highest quality trousers to help emergency medical professionals look sharp while keeping them safe and comfortable by using fabric with advanced technology.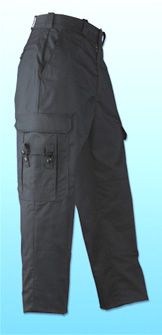 Elbeco's TekTwill Trousers feature NanoTex's ResistsSpills® that protects the wearer and the pants from a range of fluids while keeping the EMS professional cool and dry. The TekTwill Trousers have a comfort stretch waistband with silicone shirt-holding technology to provide comfort while maintaining a professional appearance.
The trousers provide cargo pockets and dual-adjustable scissor straps for crucial supplies. Designed to survive severe work conditions, the trousers have reinforced knees and Elbeco's exclusive triple-stitched crotch.
"We understand the extreme conditions that EMS professionals face on a daily basis," says David L. Lurio, President of Elbeco, Inc. "Our research has shown that durability is a key concern for those serving in the EMS sector. We have invested the additional time and technology needed to be the only uniform manufacturer providing triple-stitched durability. That sets Elbeco apart from the rest of the industry," Lurio adds.
To ensure durability, the EMS trousers have been field-tested by the National Tactical Officers Association and given their seal of approval for use in the roughest conditions.
Elbeco Incorporated manufactures an extensive line of standard and custom professional performance uniforms for the emergency medical, law enforcement, fire, corrections and security services as well as the United States Postal Service.
For more information, go to www.elbeco.com.