Extreme Parka aims to fit needs of medics
Gerber Outerwear's new jacket offers a number of pocket options for responders
---
By Jamie Thompson
EMS1 Senior Editor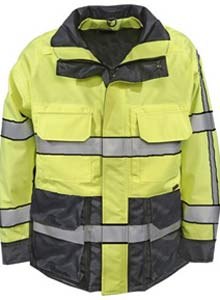 Ask any medic what they look for most in a jacket, storage space will come high on the wish-list. Launched in January, Gerber Outerwear's new Extreme Parka aims to meet those requirements.
The company has exhibited the new coat design at several shows around the country since the start of the year, including EMS Today in Baltimore and FDIC in Indianapolis.
"We've had a lot of excited responses," said Deron Gerber, Vice President/Sales Manager at Gerber Outerwear.
"It's a garment that does have a number of features that are all requests we've received from field personnel over the years and now we've finally been able to put together this jacket that works in a number of different scenarios."
The Extreme Parka is made up of a waterproof, breathable blood borne pathogen resistant bio tex barrier outer shell, and meets ANSI F1671 blood borne and ANSI 107 Class 3 high-visibility safety standards.
Featuring a two-tone lime yellow design with midnight navy accents, a concealable hood drops in behind the back rain yoke and side equipment zippers provide easy access to gear and pant pockets. And then there's the storage space.
"People are always asking for more pockets so we've worked to do that with this jacket," Gerber said. The Extreme Parka has two-way cargo pockets with flap closures, hook and loop chest pockets, and patch chest pockets with flap closures.
In addition, there's a wire management system with mic tabs, giving responders tangle-free access to their communications equipment. "The chest pocket acts as a system for wire management; a small opening on the side of the pocket allows the officer to run their speaker mic cord through it and out the top," Gerber said.
"That way the cord is concealed inside the large chest pocket and not getting tangled in their other gear."
Versatility is another key component of the Extreme Parka; its interchange zipper system allows the attachment of the convertible Cambio Jacket/Vest Liner — in the process offering seven different combinations in which they can be worn depending on the climate or response scenario.  
Gerber Outerwear has been designing uniform products for public safety for nearly 90 years. For more details, visit them on the Web at www.gerberouterwear.com.

Request product info from top EMS Outerwear companies
Thank You!