9 graduate from PALF's EMS Leadership of Tomorrow program
"Our class of 2021 graduates represent another exceptional group of up-and-coming leaders," said Priority Ambulance Leadership Foundation Board Chairman Gary Coker
---
By Leila Merrill
KNOXVILLE, Tenn. — Nine EMS professionals graduated this week from the Priority Ambulance Leadership Foundation's EMS Leadership of Tomorrow program.
Members of the class of 2021 includes Matt Behl, Michael Dowe, Tiffany Jimenez, Jake Lonas, Joshua McGaughey, Wesley Melson, Misty Phillips, Rob Rautio and Richard Szymczyk.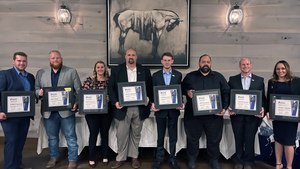 "Our class of 2021 graduates represent another exceptional group of up-and-coming leaders, and we are excited to see what they bring to the future of EMS Leadership," said Priority Ambulance Leadership Foundation Board Chairman Gary Coker.
The foundation's alumni make up a diverse group of professionals from the private and public sectors.
The foundation is accepting applications for its 2022 class through Nov. 15. The accelerated EMS program will begin with its first of four week-long, in-person training modules in the spring and will continue through the end of the year. All course materials and travel costs are provided by the 501(c)3 nonprofit foundation for individuals selected for the course.
The Priority Ambulance Leadership Foundation (PALF), a 501(c)3 non-profit, dedicated to supporting and developing professionals currently practicing in EMS and promising leaders outside of the industry who seek a career in the emergency medical industry. The Foundation's annual flagship leadership program, EMS Leadership of Tomorrow, provides formal and informal training and education in all key areas of the ambulance industry and includes a mentorship program led by ambulance company owners and respected leaders in the ambulance industry. 

Request product info from top EMS Online Training companies
Thank You!