Stethoscope calibration needs to be done monthly
---
Updated April 1, 2015
EMS equipment can be complex, but there's one piece of equipment you can calibrate yourself: the stethoscope.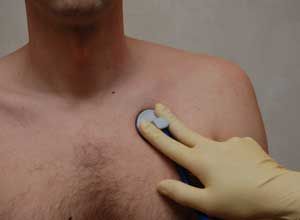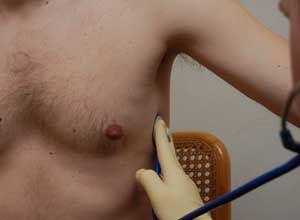 Photos by Greg Friese
It is critical that all EMS equipment be properly calibrated. You probably need to work with your local hospital or an industry service technician to calibrate and service some of the more complex equipment like IV pumps, cardiac monitors, patient cots and sphygmomanometers. Fortunately, there is one piece of equipment that you can self-calibrate: your stethoscope.
Stethoscope calibration steps
Carefully follow this sequence of calibration steps:
1) Place ear pieces in your ear canals.
2) Place diaphragm of stethoscope on your left superior chest at the mid-clavicular line, at about the third intercostal space.
3) Listen carefully for a rhythmic thub-dub.
4) Count thub-dubs for 30 seconds.
5) Place bell of stethoscope on your left mid-axillary line at about the fourth intercostal space.
6) Listen carefully for a rhythmic thub-dub.
7) Count thub-dubs for 30 seconds.
8) Multiply both count tallies by two. Add the two counts together. Then divide by two.
This number is your stethoscope calibration benchmark. Write it down and store it in a safe place. Each month, repeat and document the calibration test. If there is a variation more or less than 15 percent, seek out assistance from your training officer, service director or medical director. If your benchmark calculation result is less than or equal to zero, request immediate medical assistance.
Submit your calibration findings for important research project
Please post your calibration benchmark in the comments area, which will be used for an important EMS1.com research project.