PRESS RELEASE
Gold Cross Donates Life Paks to Dixie EMS Program
---
St. George, UT — Gold Cross Ambulance has donated four portable cardiac Life Pak monitors to Dixie State College's Emergency Medical Services program during a ceremony at the Russell C. Taylor Health Science Center.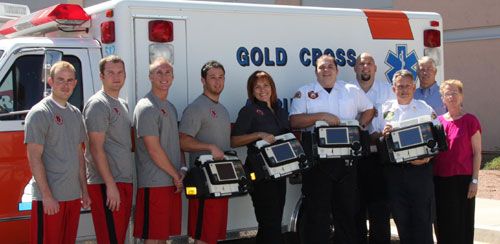 Each Life Pak features cardiac monitoring and defibrillator functions that allow paramedics and EMTs to intervene in patients suffering cardiac related issues including sudden cardiac arrest. The equipment will help students learning how to perform advanced cardiac life support and will provide valuable experience in EKG interpretation and dynamic cardiology.
"The donation of these monitors will greatly enhance the quality of the educational experience of our students," said Malinda Whipple, DSC EMS program co-coordinator. "We are so grateful to Gold Cross Ambulance for their generosity and know these monitors will be put to good use."
This is the second significant donation that Gold Cross has made to the DSC's EMS program.  Last spring, Gold Cross donated an ambulance to the program to help students gain practical experience in giving pre-hospital care to patients while riding in the back of a moving ambulance.
"As an ambulance service provider, we end up employing the paramedics and EMT's that are trained at the college," said Mike Moffitt president of Gold Cross Ambulance.  "We value our partnership with the DSC EMS program and is in our best interest to make sure these students have the proper equipment to train with."
Established in 1995, Dixie State College's EMS program is designed to prepare students for career opportunities in pre hospital emergency care, such as ambulance, fire department, search and rescue, law enforcement and volunteer service. Pre-hospital emergency care involves a wide scope of activities, such as recognition and management of patients with heart disease, trauma, burns, poisoning, alcohol and drug abuse, childbirth, acute psychiatric disorders and other medical emergencies.
As a leader in Emergency Medical and Ambulance Service for over four decades, Gold Cross Ambulance specializes in basic life support, paramedic, critical care, neonatal and non-emergency transportation services.  Utah owned and operated, Gold Cross employs highly trained and certified paramedics, EMT's, and other professionals, with a fleet of fully equipped emergency vehicles and a state-of-the art emergency communications. Gold Cross works closely with local, state, and federal agencies to assure quality care and access to emergency services for all citizens of Utah.