PRESS RELEASE
Clarius introduces Pocket Ultrasound Tri-Scanner
---
Portable, wireless scanner images virtually all body parts
VANCOUVER, BC, Canada — Clarius Mobile Health, a healthcare technology company, has a new option for customers who only want to carry one multi-purpose ultrasound scanner in their pocket. Clarius Clip-ons transform a scanner that is typically used to scan deep structures within the abdomen, to one that can also scan superficial anatomy and even the heart.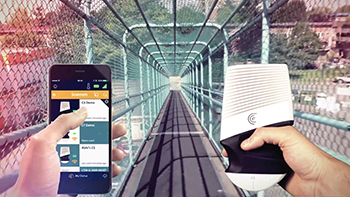 "Clarius Clip-ons are ideal for first responders, emergency medicine physicians and specialists who move quickly from patient to patient and scan various parts of the body," said Dave Willis, Chief Strategy Officer at Clarius Mobile Health. "Users can switch from scanning the abdomen to the extremities by simply adding a clip-on to the Clarius C3 Scanner and selecting the appropriate setting on the Clarius App."
Clarius Clip-ons are not intended to replace the Clarius L7, which is a dedicated scanner for superficial structures. They are designed to be used with Clarius C3 Scanners for quick looks and vascular access procedures when time is limited.
The Clarius team will be demonstrating Clarius Clip-ons at DasSMACC, the Social Media and Critical Care conference, which will be held in Berlin, June 27-30, 2017.
Wireless and compatible with most iOS and Android smartphones and tablets, Clarius ultrasound scanners are currently sold in 20 countries including Australia, Canada, the EU and the United States.
The Point-and-ShootTM Ultrasound Scanners have automated settings making them accessible for novice users to learn and use. They are powered by a rechargeable battery, which is easily exchanged when running low. Built with a magnesium case, Clarius Scanners are designed to withstand challenging environments and are water submersible for easy cleaning and disinfection.
Clarius Clip-ons are pending regulatory clearance.
To learn more about Clarius Clip-ons, watch our video: https://youtu.be/F6KYnQmT37k
About Clarius
Founded by ultrasound innovators, Clarius Mobile Health aims to make ultrasound available to all clinicians. Our affordable handheld ultrasound scanners offer clinicians the freedom to use ultrasound anywhere they need it. Clarius Scanners are regulatory cleared for sale in more than 20 countries worldwide. For more information, visit www.clarius.me.