Free Online Course | 12-Lead EKG
Understand how to approach the analysis of a 12 lead EKG, the basic EKG components, and be able to identify abnormalities in the 12 lead EKG that will lead to a diagnosis of possible cardiac disease processes so that they may be treated appropriately.
---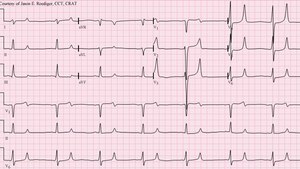 This course, brought to you by Medline is focused on the student learning and refreshing their knowledge on how to read the 12 lead EKG. The course is designed for students to review the basics of heart anatomy, the electrophysiology and basics of the EKG, basics of the 12 lead EKG, developing a standard approach to interpretation, and looking at all of the issues that will present itself during an assessment that will lead you to believe that the 12 lead EKG is abnormal and that cardiac ischemia or cardiac damage has occurred. This course will not discuss treatment of cardiac disease since this is a topic for your local protocols. 
Complete the form below to access this free course.