A new option for patient ventilation
The GO2VENT by Vortran is a gas-powered device worth considering for disaster plans
---
Throughout the COVID-19 pandemic over the last few years, there have been concerns that we would not have enough ventilators to care for all the patients who experienced respiratory failure. Although the pandemic itself is winding down, other threats continue to emerge, including influenza and COVID variants. Public health officials are constantly monitoring communicable respiratory diseases, such as Legionnaires', mumps, measles, pneumonia, TB and pertussis. Emergency planners are not convinced that we won't soon see another spike in the need for ventilators.
While at a recent EMS conference, I was wandering through the vendor displays and noticed a product that seemed like a real option to help bridge the gap between "blue-sky day" EMS and hospital ventilator needs, and the surges caused by disaster or infectious disease outbreaks.
Ventilators used in hospitals, long-term care facilities, surgical centers and EMS transport are expensive, can be complicated to use, and they take up significant storage space. Most of the units also require electrical power or some form of battery. There is simply no way large quantities of traditional ventilators can be stored, only to be used in a crisis.
While not a completely new product, the GO2VENT by Vortran has been rebranded and is newer to the EMS scene. The GO2VENT is a gas-powered device that checks quite a few boxes that make it worth considering for disaster plans:
Pre-set and ready for patient use right out of the package
Can be used on patients with endotracheal tubes, supraglottic airways, or face masks
Five-year shelf life
Small package (less than the size of a disposable CPAP unit)
No electrical or battery requirements
No calibration or regular inspections needed
Economical (current MSRP of $117)
Indicated for patients down to 10 Kg
Can be set to FiO2 of 0.5 to reduce oxygen use
Includes a basic monometer for monitoring airway pressures
Can be attached to an external monometer or monitor for more precise pressures and alarms
Listed as MRI "conditional"
The GO2VENT does still require training and competency monitoring, so it can't just be put in a disaster trailer and forgotten, but conducting regular training as part of airway and breathing skill stations would not be difficult. The user manual is less than 20 pages and includes sample competency check sheets.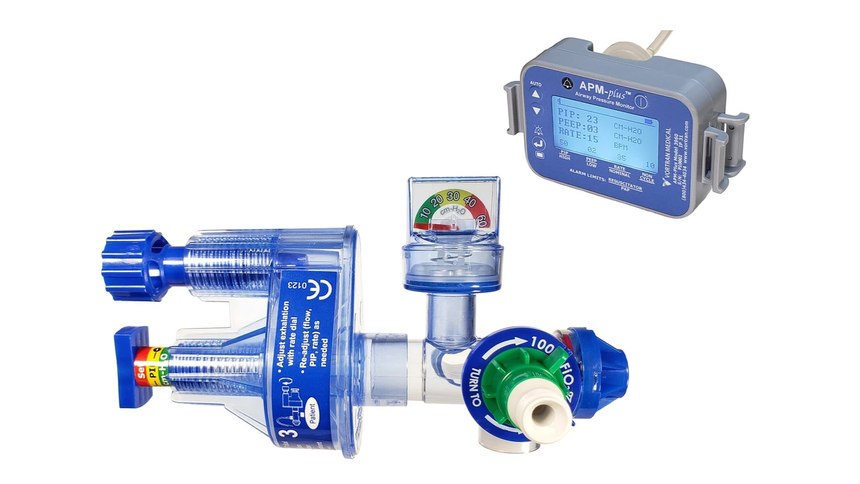 Patient indications
The GO2VENT may be used on any patients over 10 kg and can deliver ventilations through a secure airway (endotracheal tube, tracheostomy), supraglottic airway (LMA, King Airway) or with a face mask. As the device is pressure driven, it is safe to use in a wide range of medical conditions and patient presentations. Unlike traditional rate/volume ventilators, the GO2VENT limits the risk of injury from overventilation. And since the breath rate is determined by the ventilator, there is reduced possibility that the patient will be hyperventilated like is often the case with bag-valve ventilation.
Grab and go application
Setup and application of the GO2VENT is straightforward and quick. After removing the device from the packing, the provider attaches an oxygen supply tubing to the device and an oxygen source. Once oxygen is flowing, a function check is performed by occluding the patient connection port. After ensuring that the ventilator cycles, the patient connection tubing is secured to the patient. After the patient is assessed for adequate ventilation, the GO2VENT may be adjusted to meet the clinical needs of the patient. The user may adjust:
Inspiratory time
Expiratory time
Peak inspiratory pressure (the unit is pre-set to 25 mmHg)
If needed, high efficiency particulate air (HEPA) and heat moisture exchanger (HME) filters can be added. Vortran offers the APM-Plus, which is a small and light, battery-operated airway pressure monitor designed to work with the GO2VENT as well as other ventilators, resuscitators and even CPAP devices.
---

Read next:
The case for prehospital ventilators
The true value of tools like mechanical CPR devices and transport ventilators
---
Learn more about the GO2VENT
Be sure to check out the Vortran booth at the next conference you attend or reach out to their sales team at info@vortran.com or 800-434-4034 x3. They are happy to send samples and provide demonstrations.
Stay safe out there.

Request product info from top Medical Monitoring companies
Thank You!