PRESS RELEASE
Technimount System launches innovative stretcher mounting system for tablets
---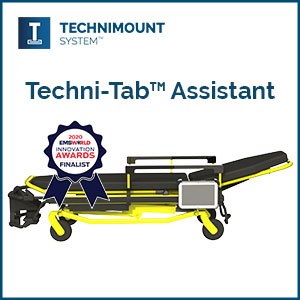 QUEBEC, QC,– Technimount System (Technimount), leading manufacturer of versatile mounting solutions for portable medical devices, announced today the launch of the Techni-Tab™ Assistant during EMS World Expo Virtual 2020. A first for the EMS industry, this innovative stretcher mounting system provides EMS responders a secure way to transport ePCR equipment. 
2020 EMS World Innovation Awards Finalist, the Techni-Tab Assistant is the first mounting system for tablets designed to be securely installed on stretchers during patient transport. With multiple configuration options available, it can be easily installed at various stretcher positions such as the patient left or patient right side. A highly flexible solution, it enables EMS responders to keep their tablet close to patients, making it readily available to enter information when needed.
The Techni-Tab Assistant's Standard and Extended Side Mount options feature impact resistant locking support systems, ensuring tablets are securely installed during transport to decrease the risk of lost, stolen, or damaged equipment. Its Extended Side Mount's unique 45°-degree angle pivot feature providers EMS responders a clear view of the tablet screen to easily continue working during patient transport.
"We're focused on making the daily operations for paramedics and emergency responders easier so they can focus on delivering the best patient care possible." said Carl Bouchard, Founder & CEO of Technimount System. "In collaboration with the EMS community, we developed the Techni-Tab Assistant to provide them with a secure solution that attaches directly to the stretcher, following the patient during transport."
"As safe, flexible solutions are the forefront of our product development," said Bouchard, "we are thrilled to further develop our product line to offer EMS Providers a stretcher mounting system for their tablets."
Ensuring the safety of patients and crews at all times during emergency and Critical Care Transport, the Techni-Tab Assistant is designed to comply with the highest industry standards for the safe transportation of medical equipment. For more information, visit technimount.com.
About Technimount Systems
Technimount System designs and develops mounting solutions that provide first responders and healthcare professionals with a complete system for portable medical device management during patient transport. Technimount's unparalleled universal mounting system can fit multiple brands, models, and applications of portable medical equipment in ambulances, on stretchers and cots in hospitals, EMS, and military environments.

Request more info from Technimount E.M.S.
Thank You!