PRESS RELEASE
Technimount Medical introduces the most revolutionary products for intra-hospital mobility
---
QUEBEC, QC. -- Technimount Medical Inc. ("Technimount Medical"), an affiliated company  of Technimount System,  dedicated  to  serving  the  Healthcare  community worldwide  with innovative mobility and mounting systems for medical equipment is proud to introduce the new Technimount Healthcare SystemTM (THS) product line. Technimount Medical offers state-of-the-art mobility systems that help Healthcare providers to be more efficient during their practice to improve patient care. These highly ergonomic solutions are designed to improve mobility within hospital, clinical and telemedicine environments.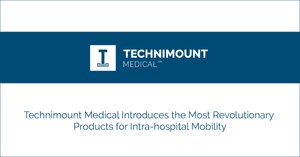 Healthcare professionals are  continuously faced with  finding  equipment that makes their everyday practice more efficient. Technimount works closely with medical caregivers to develop these innovative and modular solutions that will continue to evolve with their needs. Its unparalleled modularity among different product categories offers cost-effectiveness for multiple hospital units.
Technimount's THS product line's unique design facilitates hospital day-to-day operations by offering stability, increased flexibility, and enhanced ergonomics. Its main features include the Techni-TrackTM, which allows to adjust and interchange accessories as needed among product families; the Controlled Descending technology in the poles of the IV Stands provides an easier height adjustment and IV bag installation and removal, and the Techni-ClampTM  is a true game-changer in the medical practice, this patented technology allows for quick installation of pumps and other medical devices on IV poles as well as tubular structures in the most ergonomic way. In addition, the THS product line can be complemented with the Universal Mounting Base, to create synergies between pre-hospital and hospital environments.
Technimount Medical is an ISO 13485 certified company that complies with the highest quality standards in the industry. It is dedicated to offering innovative solutions to consistently meet customer needs and is committed to serving the Healthcare community by offering the most effective medical solutions that will ultimately improve the patient care continuum.
Technimount Medical's innovative solutions offer unprecedented modularity, flexibility, and ergonomics in the hospital and telemedicine environments, always keeping in mind our core objective, to improve patient care. I am convinced Technimount Medical's THS product line will fundamentally revolutionize the medical industry's practices." Said Carl Bouchard, Founder, and CEO of Technimount System.
The THS product line was presented for the first time at NTI & Critical Care Exposition 2022.
Watch the New THS Product Launch Video at NTI & Critical Care Exposition 2022
About Technimount Medical
A company dedicated to serving the Healthcare community worldwide with innovative mobility and mounting systems for medical equipment that improve the efficiency of patient care in hospital and clinical environments.
About Technimount System
Technimount System is a Canadian company that incorporates engineering, manufacturing, and commercialization divisions dedicated to serving the Healthcare industry. We are a recognized industry leader of innovative and flexible mounting solutions for medical devices in emergency medical services, hospitals, and military environments.

Request more info from Technimount E.M.S.
Thank You!