POCUS finds success in EMS
In a recent trial, Colorado's South Metro Fire Rescue department found prehospital ultrasound had a substantial impact on decision making and patient management
---
By Lieutenant Ryan Shelton
"Point-of-care ultrasound (POCUS)," pronounces the American Academy of Family Physicians (AAFP), "may be the biggest advance in bedside diagnosis since the advent of the stethoscope 200 years ago." The evolution of ultrasound technology has allowed for its widespread adoption, and POCUS is already deeply integrated into the work of some anesthesiologists, internal medicine specialists, family practitioners and many others. It is not yet, however, integrated into most EMS systems.
A survey of American and Canadian physicians found that only 4.1% of EMS systems are using POCUS. In the Denver metropolitan area, our South Metro Fire Rescue paramedic team had been impressed by the portability, technological strength and affordability of modern POCUS devices, and we thought it likely that POCUS could help us do our jobs better. So we ran a use trial using Butterfly devices to explore POCUS, and had remarkable results. Here's our story.
Setting up the trial 
Each year in the United States, approximately 300,000 people experience out-of-hospital cardiac arrest (OHCA) with only 9.6% surviving to discharge from the hospital. Chances of patient survival decrease when CPR is required but is delayed. Manual pulse assessment is unreliable in the evaluation of cardiac activity and may delay CPR. Research has shown POCUS is a useful tool in mitigating inaccurate manual pulse assessments and managing patient care, so our trial focused on that: The use of POCUS for pulse assessment in OHCA cases.
Our team chose the Butterfly IQ device – a handheld, single-probe, whole-body ultrasound system that could easily be incorporated into EMS workflows. With these devices, our team was able to turn a smartphone into a full diagnostic imaging system. Videos were stored in the Butterfly Network cloud, which is HIPAA and HITECH compliant with SOC II certification.
The South Metro Fire Rescue (SMFR) in Centennial, Colorado, is an organization with approximately 175 practicing paramedics with 29 stations. It serves 300 square miles with approximately 540,000 residents. Forty paramedics volunteered to participate in a four-hour training session, which included a didactic lecture and hands-on POCUS instruction from experts (U.S. fellowship-trained emergency physicians). Training included:
Assessment for cardiac contractility (roughly: the heart's ability to pump),
Pericardial effusion (buildups of liquid around the heart), and
Pneumothorax (air around or outside the lung appearing after chest trauma)
Each paramedic performed at least 25 cardiac POCUS exams on live models, which were reviewed by an expert prior to deployment of POCUS in the field.
Impressive results
Paramedics took the handheld POCUS devices into the field to capture video of patients in need of assistance and help with diagnosis. The paramedics recorded their impressions of the video ultrasound images, and those videos were reviewed by a single POCUS expert investigator to determine adequacy of image quality and accuracy of interpretation.
From September 19, 2019, through May 10, 2020, 128 patients were evaluated for medical OHCA, with 50 patients receiving care from a paramedic team with at least one POCUS-credentialed paramedic. Here's what we found:
Quality images. The POCUS video images were considered adequate in 106/118 (89.8%) patients. This was a higher percentage than that found in previous published studies.
Solid Information. Based on the information made available by the POCUS devices, our paramedics accurately interpreted the POCUS images in 104/118 (98.1%) patients, that had a substantial impact on paramedic decision making and patient management in about 30% of patients. The POCUS results changed both the decision to transport and treatment decisions in 7/14 (50%) patients, the decision to transport in 5/14 (35.7%) patients and treatment decisions in 2/14 (14.3%) patients.
Easy use. Plenty of ultrasound units we'd looked at in previous years were both bulky and fragile, but in this trial, that was not our experience at all. The stapler-sized Butterfly devices we used were easy to transport – literally capable of being carried in a pocket. They had the benefit of being chip-based, rather than using crystals, and thus proved remarkably durable, entirely unaffected when jostled on bumpy roads or during sharp turns in EMS vehicles.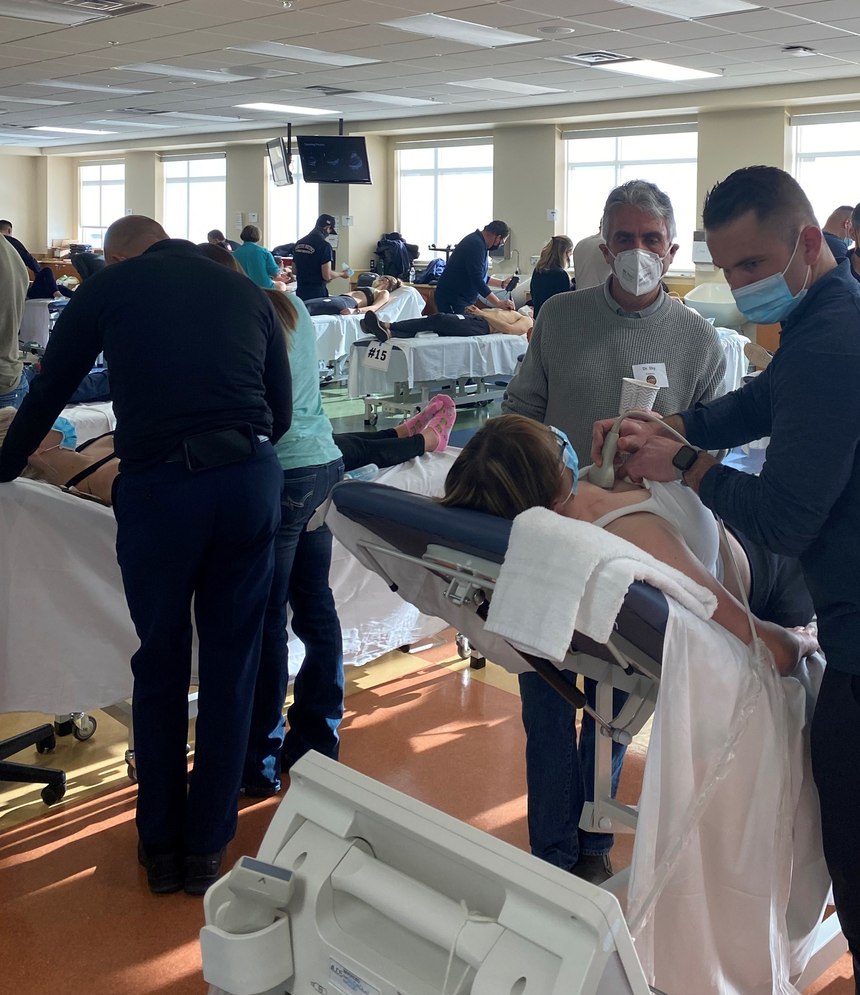 Exciting future promise
After that initial test, a second adopter group in our region was eager to take advantage of POCUS, too. Medical imaging today faces steep pressures due to demand for economic efficiency, geographic limits to care and ineffective training. Fortunately, scalable, innovative ultrasound solutions are meeting the challenge.
Evolved handheld ultrasound provides physicians with some of today's most advanced point-of-care tools. They do not require years-long intensive training. Narrowly focused professional training on the most common specific conditions likely to be encountered by paramedics is easily accessible via remote learning, and it's overseen by experts who can provide both feedback and monitoring.
Not only are new medical students and residents being thoroughly trained in POCUS, but a growing number of private institutions are developing portable ultrasound education courses and curricula that can bring today's mid-career practitioners of all sorts – including paramedics – quickly up to speed on the new technology so that they can advance and enhance their existing practices. In our case, the Butterfly Academy provided an essential set of online resources for both training and a full set of foundational ultrasound courses we found invaluable in quickly bringing staff up to speed.
The widespread availability of affordable, portable devices are a real game-changer for medicine. POCUS is transforming diagnostics throughout healthcare and in the process of establishing a new standard of care in the field, including EMS.
---

Learn more:
Why point-of-care ultrasound should be a mainstay in EMS
A former firefighter/EMT turned medical student describes the functional components, diagnostic uses and roadblocks of using this imaging technology
---
About the author
Ryan Shelton is a lieutenant paramedic at South Metro Fire Rescue in the Denver metropolitan area.

Request product info from top EMS Medical Equipment companies
Thank You!