Neonatal stretcher system sets a standard for critical care transport of neonates
Our smallest critically ill patients deserve a solution that's dedicated, not improvised
---
Sponsored by Technimount System
By EMS1 BrandFocus Staff
Newborns are the most precious and vulnerable members of our society, and few would dispute their protection should be among our highest priorities. However, for years the transport of critically ill neonates didn't reflect that urgency. The sickest of these frail patients were often transported in impromptu ways, surrounded in ambulances by hospital equipment that was wedged, stacked, and balanced in different ways. Despite such less-than-ideal circumstances, critical care teams work with limited resources and demonstrate commendable dedication and resourcefulness in ensuring the best possible care for their patients.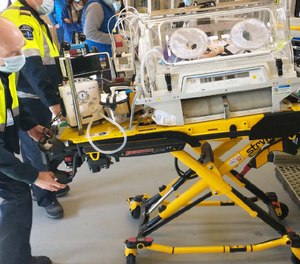 "It was an urgent need that demanded a solution. To address the challenge of securing medical devices, it was crucial to design a system that would be tested in compliance with the highest industry safety standards to mitigate any potential risk of unsecured medical devices becoming dangerous projectiles in the event of a crash impact. Any unsecured devices during emergency transport can cause severe injury or even fatality to occupants in the patient compartment," said Nancy Morest, director of business development for Technimount System, a prominent manufacturer of mounting solutions for emergency medical services and the medical industry.
With years of experience and its extensive expertise in developing mounting solutions to meet demanding industry standards for the secure transport of medical devices, Technimount was well-suited to address this urgent need. Today, healthcare providers can turn to Technimount's Neonatal Stretcher System, which offers flexible configurations designed to efficiently organize, securely position, and conveniently access advanced medical devices, all of which are crucial for the survival of our smallest and most fragile patients.
Testing Ensures Compliance to Safety
The Neonatal Stretcher System is tested in compliance with the highest industry safety standards, known as SAE J3043.
The Society of Automotive Engineers International (SAE) is a professional organization that primarily develops best practices and testing standards for the automotive, aerospace, and commercial vehicle industries. SAE implements best practices and specific testing standards to minimize the risks of injury or even death to patients and providers during ambulance collisions or impacts. These new recommendations cover patient compartment restraints, litter integrity, equipment mounting systems, and both front- and side-impact safety systems.
In 2014, SAE issued new recommended practices for safety in the patient compartment of ambulances. These new standards were developed and validated by the Truck Crashworthiness Committee in collaboration with the U.S. government and several major players in the industry.
Enhancing Efficiency in the Transport of High-Risk Critically Ill Neonates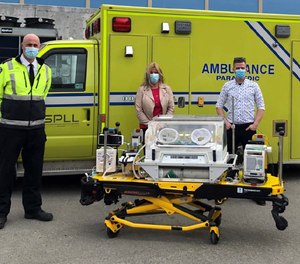 Designed for critically ill newborns, Technimount's Neonatal Stretcher System is scalable and customizable to meet the transport team's needs and protocols in place. The solution incorporates Technimount's versatile Standard Surface Base, which serves as the fundamental platform for strategically positioning medical devices in a wide range of configurations. This approach allows us to adapt and optimize the positioning of medical devices according to specific needs and preferences, ensuring optimal functionality and convenience. The Neonatal Stretcher System can secure essential medical devices such as a monitor/defibrillator, infusion pumps, oxygen blender, suction unit, resuscitator, ECMO device, gas cylinder, battery charger and more. All connections and accessories remain accessible and unimpeded, and everything is easily switched out for cleaning, disinfecting or reconfiguration.
Developing a State-of-the-Art Transport System
Complex as it is to build a system like the Neonatal Stretcher System, Technimount follows a systematic approach, using the guidelines of an ISO13485 quality process for the design and development of these transport solutions.
The development process begins with an initial design input meeting with the customer and the Technimount team. "It's really important for us to have a complete understanding of how they work and are using their medical devices during their interhospital transfers," said Nancy Morest. "Obviously everyone works differently because they have different medical devices. We bring everyone around the table to understand their process and how they work with the equipment to ensure the configuration is appropriate to their needs."
With an eye toward balancing capabilities and cost, the Technimount team works to provide an optimized layout for the customer's priorities within the constraints of the ambulance compartment and stretcher's capability. Technimount works on developing concepts, and the best design is then selected to show to the customer.
The design and development process involves multiple product iterations to ensure the final product will meet design input requirements and safety standards. Once design input requirements are met, and computer simulations for resistance to crash impacts are completed, a prototype is built for physical testing and customer validation. Once validation and quality assurance are completed, the product can then proceed to final production and then delivered to the customer. 
Road Map to a New Standard
There's been little guidance in the world of neonatal transport, even with SAE's recent attention. That may be ready to change. Early work has begun toward the development of a more specific and articulated North American standard for the transport of neonates and the equipment that may accompany them. Designers and manufacturers are involved. What their result may look like is too early to tell, but Technimount's Neonatal Stretcher System may represent a new standard of care to follow.
In the meantime, it's providing critical care and other transport teams with an enhanced level of safety, convenience and flexibility when moving their smallest, sickest patients. 
For more information, visit Technimount System.
READ NEXT: Considerations for safer ECMO and critical care transport 

Request information from Technimount E.M.S.
Thank You!