How digital stethoscope technology helps this first responder overcome hearing challenges in the field
David Bagioni, an EMS provider who has dealt with hearing loss since his early 20s, says the Eko CORE is 'a game changer' for him
---
Sponsored by Eko Health
By Cole Zercoe for EMS1 BrandFocus
No matter what the call is, one constant in the unpredictable environment of emergency medical services is noise. From sirens to traffic to radio chatter, the cacophony of the emergency scene is all too familiar for prehospital providers.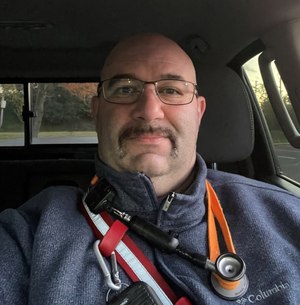 In such a noisy profession, hearing what's happening with a patient's heart and lungs can be challenging. For David Bagioni, an EMS professional who has dealt with hearing loss since his early 20s, that struggle was monumental – until he found a solution in digital stethoscope technology.
NAVIGATING THE NOISE
Bagioni's struggles with hearing almost derailed his career in public safety before it even began. Bagioni, 44, originally wanted to be a career firefighter, but those hopes were dashed early when he discovered his hearing loss.
"At the time, a lot of departments wouldn't take someone with hearing loss," Bagioni said. "You couldn't get past the physical. There weren't a lot of allowances for it like there are now. I knew I wasn't an indoor type of person, so I gravitated toward EMS and took that up as a career."
Bagioni navigated through the early years of his decades-long service in emergency medicine without many issues, but eventually he needed to get hearing aids, which presented a number of challenges to his work. From training to tactical rescues, the struggle with traditional analog stethoscopes was clear.
"My only option was to literally remove my hearing aids, which in turn presented a whole bunch of challenges, because as soon as I take them out I'm effectively deaf," Bagioni said. "I can't hear anything going on around me, I can't hear anyone talking to me, so it becomes a real challenge to keep up with the pace of an incident until I put them back in."
In an industry where environmental awareness and communication are so critical, Bagioni needed a stethoscope that could provide a clear, crisp sound through the chaotic noise of emergency scenes while allowing him to keep his hearing aids in.
"When you're setting up to do patient extrications out of a fire area, or you're behind a SWAT team, you can't pull your hearing aids out," Bagioni said. "That's not an option, so you have to find alternatives to do your assessments until you can get to a point where you can."
Wireless digital stethoscopes were the answer. This technology resolved the roadblocks Bagioni was experiencing in the field by providing amplification and higher sound quality.
But many of them, already expensive, had required him to purchase additional add-on components like adapters to enable features like Bluetooth to feed sound wirelessly into his hearing aids. A friend suggested a more cost-effective solution – the Eko CORE Digital Attachment – to simplify his setup at an affordable price.
"He said, 'You gotta try this, the thing just hooks up to your phone,'" Bagioni said. "I never looked back since the day I got the Eko CORE. It goes directly to its own app and then to my hearing aids. It's like I have AirPods in."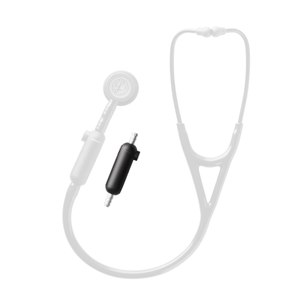 'IT GIVES YOU A LOT MORE CONFIDENCE'
With up to 40x amplification, active noise cancelling and wireless capabilities, the Eko CORE gives prehospital providers like Bagioni the customization options they need to ensure that sounds are being heard accurately no matter what the situation calls for.
"It gives me a lot more confidence that I'm hearing what I'm hearing," Bagioni said. "When I'm out in the field it's my go-to. It sits in my pocket all day long. I'm never very far from it."
The COVID-19 crisis would add another layer of utility to the technology, given the infection control logistics of wearing full PPE with headgear and the need to listen to patients while minimizing contact. Through its Bluetooth connection, the Eko CORE delivers sound while also protecting against close patient contact during a pandemic.
Bagioni, who is an EMS educator as well as a provider out in the field, has also been experimenting with the HIPAA-compliant Eko software for potential use in the classroom. The first to admit he's not gentle with equipment, Bagioni says he has also been impressed with the device's durability.
"I've used it in every condition that I could possibly get into, from being in the house to working on a car flipped over on the side of the highway," Bagioni said. "It has taken its fair share of punishment. It's gotten rained on, snowed on – it sits on my outer pocket, so the thing gets bumped a lot. But the Eko has held up."
RELIABLE AND SIMPLIFIED LISTENING
For Bagioni, the Eko CORE's reliable and simplified wireless connectivity is second to none in the digital stethoscope market.
"Not having to remove my hearing aids allows me to still hear everything that's going on," Bagioni said. "And the thing a lot of people don't know about hearing aids is there's a bootup time of 10-12 seconds, so if I had to take them out, I'm basically wearing earplugs for that time after I put them back in. The Eko's instant wireless connection and instant availability of the audio is a game changer for me."
Visit Eko for more information about their digital stethoscope products.
Read Next: Product Review: 3M Littmann CORE Digital Stethoscope
About the Author
Cole Zercoe previously served as Senior Associate Editor of Lexipol's Police1.com and Corrections1.com. His award-winning features focus on the complexity of policing in the modern world and other public safety topics.
Request information from Eko
Thank You!