How every EMS provider can be part of the supply chain solution
ESO's inventory management system ensures that the right amount of the right supplies is available when needed
---
Sponsored by ESO
By John DeArmond for EMS1 BrandFocus            
Essential personnel, the pandemic, revenue loss and operation disruption: This is the new normal any public safety agency must navigate and operate in. Being able to gain and maintain control of your organization's essential supplies and equipment is an absolute necessity to provide the level of service that your patients and your community have come to expect.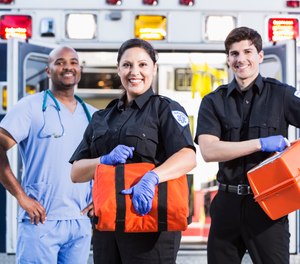 In today's world of constant and evolving challenges, maintaining operational readiness and managing the medical supplies and equipment needs should not be an added stress. It should be a process of thinking ahead, saving time and containing costs that enhances the entire operation, not restricts it.
The need to do more work with less financial support and the uncertainty of essential equipment being delayed or placed on indefinite backorder can disrupt the operations of an agency and reduce their ability to serve their community.
ESO Inventory is web-based inventory management software designed specifically for EMS agencies. It equips your crews with the ability to digitally manage on-hand stock, place orders and track shipments, and optimize agency resources with automatic tracking of inventory depletion through ePCR integration.
The program integrates into any agency regardless of size or budget, is simple to use and allows everyone – from the purchasing manager to field providers – to be actively involved at every level of equipment and supply control, use and purchasing.
Here are five factors that should be considered prior to incorporating an inventory management program into the day-to-day operations of an agency.
Supply management
Supply management is a constant process of ensuring that the proper amount of stock is readily available. Ensuring timely orders, shipment and placement can be challenging, with manual tracking and dependence on daily, weekly and monthly inventory checks all factoring into the purchasing and stock process. ESO Inventory allows the frontline workforce to have immediate control of their supplies and equipment in one complete package.
Ease of use
No one wants to learn another process in an already time-consuming, high-stress job. When considering adding a new process, consider whether the new program will potentially increase the workload of the staff or be more efficient and effective. Is it easy to learn and tolerant of errors? Will the new program engage the user, or will it hinder their ability to function at a high level? ESO Inventory removes the worry of learning a new program by seamlessly integrating with your ePCR.
Compliance
We live in a world of rules, laws and contractual requirements, and this makes managing day-to-day operations in EMS a challenge. Knowing the nuances of local, state and federal regulations is essential. ESO Inventory offers a straightforward, streamlined approach to medication and equipment management in accordance with regulatory requirements.
Cost savings
Being able to establish long-term supply contracts is no longer a luxury to ensure fair pricing – it is essential to the survival of an organization. What can the budget support? This is a simple question but one that is a concern throughout the year. Revenue cycles and immediate and long-term purchasing, along with the need to ensure that the workforce continues to receive their compensation, are all issues that require forward thinking. ESO Inventory allows for cost containment by tracking supplies in real time as they arrive and are stored and used. The need to manually count individual pieces is eliminated, which reduces both time and potentially costly errors.
Current technology
Technology should advance, not hinder, the operations of the agency. Does your current technology allow employees to do their work quickly and efficiently, or does it impede progress? Many organizations and agencies are resistant to new technology and depend on the old-fashioned way of managing their inventory. Or, is the software not compatible with other software? ESO Inventory is a user-friendly solution that will seamlessly integrate with your ePCR solution.
It's important that EMS agencies maintain a cost-effective operation, and ESO Inventory supply management software provides a user-friendly program that will allow agencies of any size to immediately gain control of their supply needs. Every level of the agency can benefit from the easy-to-use software, from the front-line providers having what they need in the field to management tasked with short- and long-term supply and equipment budget projections. ESO Inventory enables everyone to be part of the inventory solution.
Visit ESO to learn more and request a demo of ESO Inventory.
Read next: Achieving operational efficiency (eBook)

Request information from ESO
Thank You!